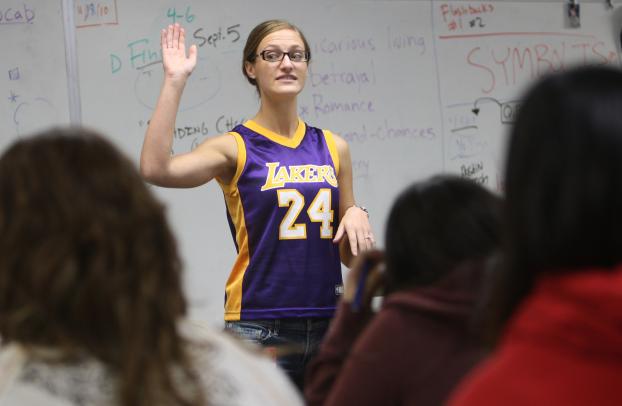 Caption: As part of her teacher training, and thanks to a $1.5 million federal grant, special education credential student Jacqueline Graham gets experience teaching English to Brea Junior High School students. On this day, students and staff celebrated a sports-themed spirit day. Photo by Karen TapiaDownload Photo
Preparing Teaching Specialists
Grant to Advance Special Education Teacher Program
Big changes are in store for the K-12 special education program with the support of a multiyear, $1.5 million U.S. Department of Education grant. 
First-year funding of $295,723 underwrites the "Preparation and Retention of Collaborative, Effective and Successful Specialists" Project led by Kristin Stang, associate professor of special education. The five-year project will overhaul coursework and classroom training experiences for the education specialist credential program in mild/moderate disabilities. 
Revisions to course and fieldwork are necessary in order to align with new state standards for the preparation of teachers planning to work with K-12 students with high-incidence disabilities, such as learning disorders, emotional disturbances and mental retardation, said Stang. 
Caption: Special education credential student Andrew Holmes hands out test papers in a world history class at Brea Junior High School. This fall, Holmes is getting classroom experience as part of a federally funded project to give special education credential students teaching opportunities in general education classrooms. Photo by Karen TapiaDownload Photo
"Special education faculty members are incredibly pleased that this project is being funded. Due to new state standards, we have worked diligently to rewrite our credential program and will continue to have curriculum development needs as we address these standards," said Melinda R. Pierson, chair and professor of special education. 
Moreover, program modifications are needed to meet demand for special education teachers equipped with the content knowledge consistent with state teaching requirements, Stang explained. 
"These funds not only come at an ideal time to assist the college in making program changes to meet the dramatic change in state standards, but also will allow us to do more than we initially thought possible due to budget constraints," she added. 
While Stang will serve as project director, and Barbara J. Glaeser, professor of special education, as curriculum coordinator, a number of elementary and bilingual, secondary and special education faculty members will be involved in the five-year effort. 
"This is a program grant, and program changes can only occur with the collaborative effort of both full- and part-time faculty," said Stang, a former middle school special-education teacher who joined Cal State Fullerton in 2003. 
"Ultimately, if the efforts of the many faculty working on this project can be the improvement of student outcomes for K-12 students in the schools — in particular those students with high-incidence disabilities — then the work will be well worth the effort." 
Support for Future Teachers
While the grant does not allow for direct financial assistance to students, it will provide additional training and support, including a new tutoring program and more mentoring opportunities and support of early career teachers, as well as enhanced pre-service teaching in general education classrooms. 
In today's schools, there is an emphasis on the use of evidence-based practices in teacher training, in addition to training teachers to work in inclusive settings where collaboration with general education teachers is of vital importance, Stang said. 
New courses include six weeks of fieldwork for all teacher candidates in order to practice collaboration and consultation in a general education classroom. Students will work under mentorship with both a general education and special education teacher at school sites. This fall semester, students were placed at more than 19 school sites across the county. (What do credential students feel about the program changes? See the interview with student Jill Pasker.) 
A tutoring center, slated to open in fall 2011, will support teacher candidates in their understanding of content required for the credential program, state credential exams and qualifications to teach mathematics and science. 
"Students in our program will be supported in many ways by this grant, but the most exciting addition is the tutoring center to meet all of their needs," Pierson said. 
Additionally, the project will provide other benefits to future teachers in the credential program, including plans to bring in leading special education experts to work with students, faculty members and mentor teachers to ensure highly qualified education specialists, as well as to provide consultant services to specific project initiatives. 
"Without the grant, many of these types of opportunities would not have been previously possible," Stang said. "The bottom line is that this grant project is about the future of our program and subsequently, the future of children with disabilities with whom our trained teachers work to improve their academic, social and behavioral outcomes."
Dec. 6, 2010