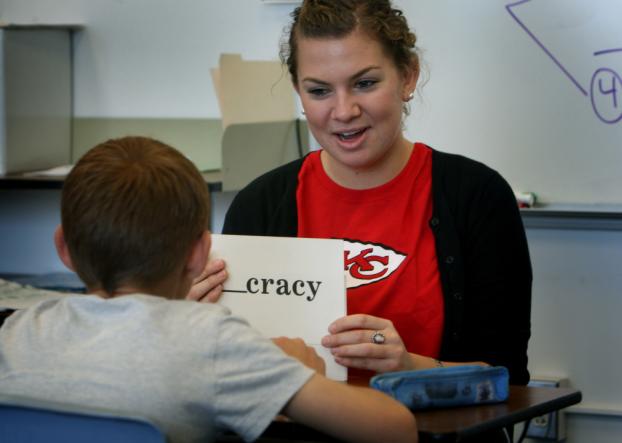 Caption: Special education credential student Jill Pasker works one-on-one with a student at Brea Junior High School's Learning Center. Photo by Karen TapiaDownload Photo
Enhancing Skills in Credential Program
Interview With Future Special Education Teacher Jill Pasker
Jill Pasker is enrolled in the education specialist credential program to teach high school students with disabilities. 
This semester, she has been working with Brea Junior High School students to gain experience teaching in general education classrooms. The course is part of a newly launched project — made possible through a $1.5 million U.S. Department of Education grant — to update the university's special education credential programs to meet new state teaching standards.
Pasker, who plans on pursuing a master's degree in special education, talks about her goal to teach students with special needs and why she chose Cal State Fullerton's teacher preparation program.
Why do you want to become a special education teacher? 
My older brother has Down syndrome. Throughout my life, I have attended parties, sports events and school plays with him and his friends. He and other individuals with special needs have such positive attitudes, kind hearts and the perseverance to overcome the obstacles in their lives. I want to become an education specialist because it will allow me to help individuals like my brother and his friends to become the best they can be, to live as independent as possible, and to have positive futures.
What are you learning by student teaching? 
At Brea Junior High, I am working with a general education teacher in a language arts classroom. I am learning how my mentor teacher runs her classroom, works with colleagues and creates lessons for different types of learners. I help students who need accommodations and modifications with assignments, but I am also there to help all students stay on top of their work. The things I do in class help not only the students with special needs, but help everyone. The opportunity to be in a general education classroom as a special education teacher will be useful when I am in a teaching position and need to collaborate with general education teachers on including special needs students in their classrooms.
How has the credential program helped you prepare for a teaching career? 
I chose Cal State Fullerton because the credential program is very proactive and uses the most current research, methodology and practices to include in its curriculum and classroom experiences. The program's coursework has taught me how to modify and accommodate state standards for students with all types of disabilities. I also have learned effective strategies to help educate different types of learners, to make my students socially acceptable with peers and to train students with the life and work skills they will need when they leave the school setting. The curriculum teaches us to work with parents to collaborate and brainstorm the most effective goals for their child.
How will this federal grant help you and other future teachers? 
The first year of teaching is the hardest. But thanks to this grant, it will help support special education teachers during our first year in the classroom. Credential graduates will receive support, encouragement and on-the-job coaching from Cal State Fullerton professors. This will be an invaluable bonus to ensuring our success in teaching students with special needs.
Dec. 6, 2010