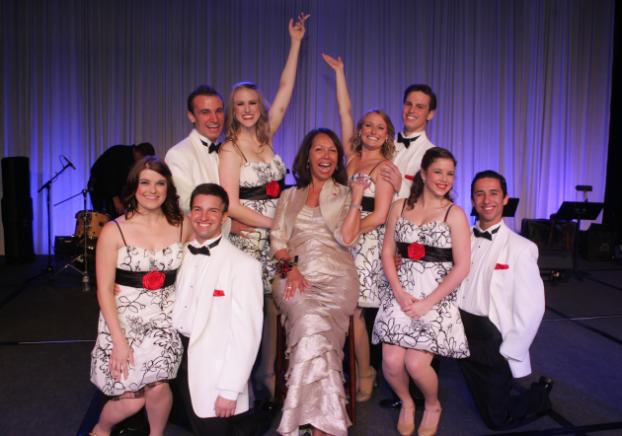 Caption: Theatre and Dance students pose with Vision & Visionaries honoree Victoria L. Vasques during the event April 30. The students, seated from left, are: Shauni Gerner, Jordan Sidfield, Casey Canino and Nico Ramirez. Standing, from left, are: Daniel Wargo, Jessica Wilson, Rose Ouellette and Neil Starkenberg. Photo by Karen Tapia Download Photo
Alumni Accolades
CSUF Honors 8 as Vision & Visionaries Awardees
EIGHT DISTINGUISHED and honorary alumni were feted during Cal State Fullerton's 18th annual Vision & Visionaries gala April 30. This year's honorees and their awards: Paul F. Folino, executive chairman, Emulex Corp., Honorary Alumni Award; and Distinguished Alumni Award recipients David L. Riley, director of the Orange County Health Care Agency, Kerri Ruppert Schiller, senior vice president and chief financial officer of CHOC Children's Hospital, Donna L. Schroeder, founder and design consultant, and Ernest W. Schroeder, founder, president and CEO, The Schroeder Co., Gary C. Sherwin, president and CEO, Visit Newport Beach Inc., David J. Siebels, musician, composer and producer, and Victoria L. Vasques, president of Tribal Tech LLC.
Students feted the honorees with special song-and-dance numbers at the gala and they received V-shaped crystal awards.
Caption"Cal State Fullerton has given me so very much, a tremendous amount, and it is really due to the fact that Cal State Fullerton is blessed with an amazing faculty, a faculty that really takes an interest in its students. They care about your personal and your professional growth," Sherwin said. "I was blessed during my term at Cal State Fullerton to meet a couple of very incredible faculty members who played a meaningful role in my life and I know that this award is due in fact to the perseverance of a gentlemen named Dr. Rick Pullen, one of the most talented people I've met."
He said Pullen, emeritus dean of the College of Communications, was his communications law professor 25 years ago.
Sherwin credited Pullen and the late James P. Alexander, professor of communications, "two of the most influential people" in his life, for guiding him to become successful.
"This award is really more of a tribute to the university than it is to me," Sherwin said, adding that people like him who have excelled in their careers "owe the next generation of students access to get a first-class education to be able to rise up and create the life of their dreams. That's what Cal State Fullerton has done for me.... We have a responsibility to this institution and to the state to help in whatever way you can to help this university."
Sherwin's award acceptance speech is available on YouTube.
President Milton A. Gordon called the honorees "true visionaries, who serve as shining examples of our university's outstanding alumni network."
The award recipients, he said, "have made significant contributions to their fields that reach far beyond their own personal career advancement. There is a shared sense of character among these Titans that embraces the importance of making a positive difference, either in their professional lives, or through their impassioned philanthropic activities and volunteer efforts."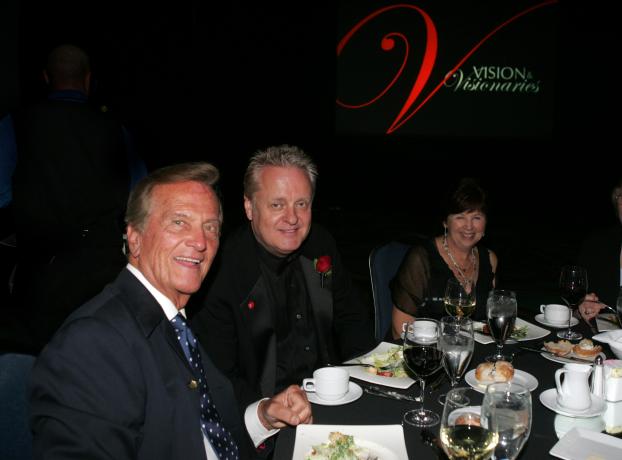 Caption: Pat Boone, left, was a guest of David J. Siebels, center, during CSUF's Vision & Visionaries event. Photo by Karen TapiaDownload Photo
Paul F. Folino
Shortly after earning his bachelor's degree in social sciences from Central Washington State University and an MBA from Seattle University, Folino stepped into the corporate workplace at Xerox Corp., where he was a member of a team that launched Ethernet networking products into the marketplace in the 1970s. He went on to serve as president and COO of Thomas-Conrad Corp., where he spearheaded the company's growth from $18 million to almost $60 million in revenue and in 1993, took on the leadership of Emulex Corp., overseeing a multinational corporation
with a market value of well over $1 billion.
The Orange County Business Journal named him one of the "top 50 most influential business leaders" in Orange County.
Folino is a member of Cal State Fullerton's Philanthropic Foundation Board of Governors and Mihaylo College of Business and Economics Dean's Advisory Board. He was vice chair and a
supporter of the campaign to construct the $79 million Mihaylo Hall, home of the business college. He also chaired the campaign to bring men's and women's golf teams back to the university.
Last year, Folino was a keynote speaker at commencement ceremonies, where he was awarded an honorary doctorate of humane letters.
David L. Riley
During more than 30 years working for Orange County, Riley (B.A. business administration '77) has held a number of positions in the county administrative office, probation department and human services agency, as well as OC Health Care Agency. He has been director of the agency since 2009 and is responsible for overall direction and operation of public, regulatory, behavior, medical and institutional health.
He is a member of the board of directors of CalOptima, a county organized health system authorized by federal law to administer Medi-Cal benefits within Orange County. He also serves as commissioner to the Children and Families Commission of Orange County and ex-officio member of the board of directors of the Health Care Council of Orange County.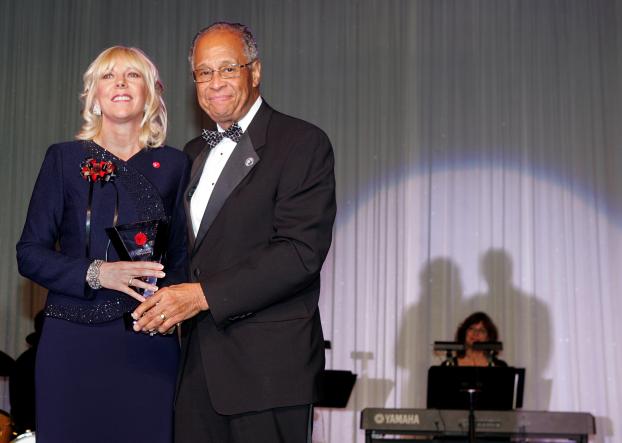 Caption: Kerri Ruppert Schiller accepts her award from CSUF President Milton A. Gordon. Photo by Karen TapiaDownload Photo
Kerri Ruppert Schiller
Schiller (B.A. business administration-accounting '82) joined CHOC in 1998 and is responsible for the leadership, management and direction of all financial operations for both the CHOC Children's Hospital and CHOC Children's at Mission Hospital, as well as the CHOC Children's Foundation, Children's HealthCare of California and its real estate holding companies. Prior to joining CHOC, she served as chief financial officer of Comprehensive Care Corp., a national for-profit organization that owns and operates freestanding facilities and management of in-hospital programs.
The hospital administrator is a board member of the Orange County Foundation for Medical Care, as well as a member of the Hospital Association of Southern California CalOPTIMA Managed Care Subcommittee, the Healthcare Financial Management Association and a past secretary/treasurer of the California Children's Hospital Association.
On campus, Schiller is a member and chair emerita of the university's Philanthropic Foundation Board of Governors and chairs its Nursing Initiative Task Force. She also serves on the Front &
Center Blue Ribbon Committee and is among the university's 50 Women of Distinction.
Donna L. and Ernest W. Schroeder
A couple since their days at Cal State Fullerton and spouses since 1970, Donna (B.A. communication '71) and Ernest Schroeder (B.A. business administration '67) also became business partners in 1973 when The Schroeder Management Company was established. They, along with his brother Paul Schroeder, oversee an award-winning business that owns and manages commercial and residential properties, including more than 2,000 apartment homes throughout Orange and Los Angeles counties, and employs more than 120 professions in property
management, brokerage service, accounting and financing.
In addition to their business responsibilities, the Schroeders are involved in a number of philanthropic and community activities both on and off campus. They developed and hosted "Titans at the Table," a series of small, intimate gatherings that allow Cal State Fullerton business alumni to become acquainted with each other. Ernest Schroeder also is a member of the Mihaylo College of Business and Economics Dean's Advisory Board. In addition, they were donors to the capital campaign for construction of Mihaylo Hall, where a classroom is named in their honor.
Donna Schroeder is a volunteer with the Bowers Museum and the Orange County Museum of Art and served as event co-chair for the Pacific Symphony's 2010 Pops Opening Night Dinner and Masquerade Soiree. The couple contribute to several local charities, including Orange County United Way, Human Options Inc., the California Art Club and Hoag Hospital.
Gary C. Sherwin
As president and CEO of Visit Newport Beach Inc., Sherwin (B.A. communications '84) brings a wide range of hospitality industry experience to the promotion of the city as a conference and leisure destination.
Prior to joining Visit Newport Beach Inc. in 2006, Sherwin was vice president of market development for the Palm Springs Desert Resorts Convention & Visitors Authority, vice president of
marketing for the Long Beach Convention & Visitors Bureau and director of media relations for the Los Angeles Convention & Visitors Bureau. He has served as chairman of the California Travel
Association and is vice chairman of the Orange County Tourism Council.
The co-author of the book "Destination BrandScience" shares his expertise with students as a lecturer, has served as a member of the College of Communications Dean's Advisory Board and has provided curriculum advisement for the college's entertainment studies concentration. A donor to his alma mater, Sherwin was inducted into the Communications Department Wall of Fame in 2000 for his personal and professional achievements.
David J. Siebels
Music is the common thread throughout all the various career titles carried by Siebels (B.A. music '75), who since his student days has: arranged, produced and engineered more than 27 albums; created musical scores for more than 35 films and nine television series; conducted 65 musical variety television shows; and was musical director/arranger for two musical variety television specials.
Siebels has composed numerous television commercials and CD-ROM educational games, and has continued to perform as a keyboard player, touring with such artists as Rita Coolidge, James Darren and Rick Springfield. He has been honored with a Gold Angel Award for non-broadcast films and was recognized for his work on the Emmy Award-winning PBS film "No
Greater Love," a documentary about organ donation.
In 2009, Siebels released his first solo jazz organ album, "Dave Siebels with Gordon Goodwin's Big Phat Band," which reached the top 40 on the jazz music charts. He returned to campus in December to lead a master class and performed as a guest artist during a Dec. 3 concert with Cal State Fullerton's Jazz Ensemble.
Siebels and his wife, Sue (B.A. music '76), a self-employed music teacher, are members of the university's MAMM Alliance for the Performing Arts.
Victoria L. Vasques
As president and owner of Tribal Tech LLC, Vasques (B.S. human services '76) provides technical assistance and consulting services to federal, state, tribal and corporate clients. She has been an advocate for American Indians for more than three decades, leading education reform efforts and promoting energy initiatives. She also works with nonprofit groups dedicated to supporting and promoting literacy, health care, child safety, education and after-school enrichment.
A resident of Alexandria, Va., Vasques has served as assistant deputy secretary of the Office of Indian Education for the U.S. Department of Education, director of Indian affairs for the U.S.
Department of Energy, executive director of the White House Initiative on Tribal Colleges and Universities, an education program specialist in the Office of Indian Education, a member of the President's Commission on Indian Reservation Economics and a member of the President's Commission on the HIV Epidemic.
After earning her bachelor's degree, Vasques received teaching credentials at UC Irvine. A member of the San Pasqual Band of Mission Indians, she has been named American Indian Woman of the Year, among her many honors.
In support of CSUF, she has been actively involved with the university's Washington, D.C., Internship Program and is a member of the Cal State Fullerton Philanthropic Foundation Board of Governor's Archaeo-Paleo Initiative Task Force.
Award Background
Established in 1994, Vision & Visionaries recognizes those who have distinguished themselves through their achievements. The awards are the highest honors bestowed on Cal State Fullerton alumni and honorary alumni.
For more information about Vision & Visionaries, visit the website: visionandvisionaries.com or call 657-278-3480.
May 5, 2011