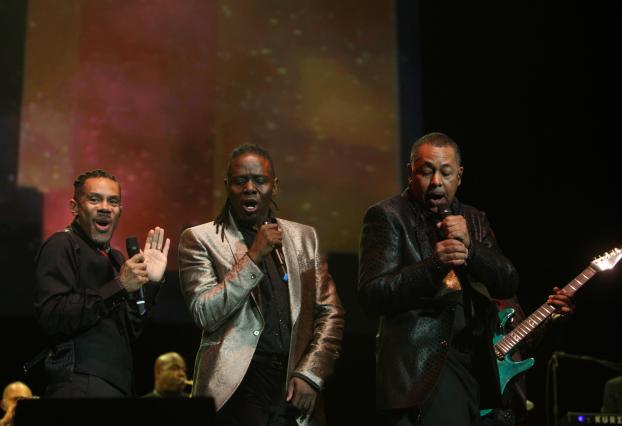 Caption: Earth, Wind & Fire headlined this year's Front & Center concert. Photo by Karen Tapia
Front & Center Grooves
Earth, Wind & Fire, Alumnus, Students Deliver Rousing Show
MORE THAN 9,000 gathered inside the Honda Center Feb. 19 for Front & Center 2011, featuring rock 'n' roll Hall of Fame inductee Earth, Wind & Fire as the headliner. Acclaimed baritone Jubilant Sykes, a Class of '79 music graduate, served as master of ceremonies and also performed to thunderous applause from the enthusiastic audience.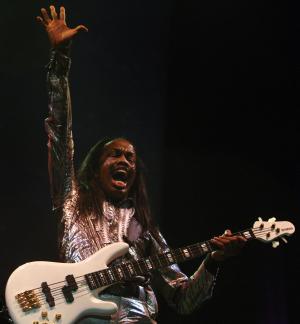 Caption: Earth, Wind & Fire's bass player Verdine White. Photos by Karen Tapia


Philanthropists Wylie and Bette Aitken were honored as recipients of the 2011 Orange County Titan Award, presented by CSUF President Milton A. Gordon. During a Broadway-style salute to the honorees, student performers Deanna Ott, Dennis Bendersky and Jessica Wilson portrayed legends Carol Channing, George M. Cohan and Ethel Merman to the delight of the audience.
An 18-member theatre and dance cast performed during the show and joined Earth, Wind & Fire on stage for a well-received performance of the group's 1978 gold single "September."
In welcoming attendees to the 16th annual event, Gordon said: "Cal State Fullerton plays an integral role in providing the workforce that makes our region stronger and even more vibrant. So now, more than ever before, the commitment of the community makes a difference in preserving this vital educational resource for current and future generations of students. Therefore, on behalf of the entire Titan community, thank you for your support of the university during these difficult times. I would particularly like to thank representatives from the Southern California business and civic community, many of whom are also Titan alumni, for their attendance this evening."
The evening was designed around Front & Center's mission to broaden the university's visibility and influence in Orange County and Southern California, cultivate prospective supporters for the university, and provide funds for academic enrichment and student scholarships. More than $100,000 was netted from the event, which also featured a silent auction for black-tie attendees and the debut of a texting method for donating to the university, introduced from the stage by Sykes.
Earth, Wind & Fire drew much applause during a 90-minute set highlighted by the group's Grammy-winners and gold singles, including "After the Love Has Gone," "Boogie Wonderland," "Let's Groove," "Singasong" and "Shining Star."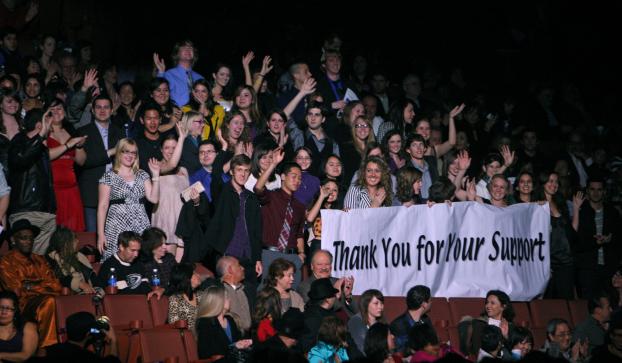 Caption: Enthusiastic students thank donors for supporting Cal State Fullerton. Photo by Karen Tapia
March 9, 2011