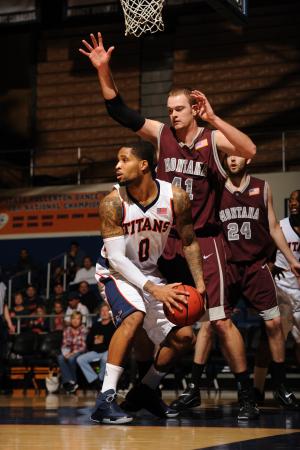 Caption: Andre Hardy is in his second year at Fullerton after two seasons at Oral Roberts in Tulsa, Ok. Photo by Matt Brown
The Homecoming Phenomenon
Men's Basketball Roster Features Transfer Student Players
WHEN the Cal State Fullerton men's basketball team was preparing to play Wisconsin in the opening round of the 2008 NCAA Tournament in Omaha, Neb., the national media was surprised. Not so much that the Titans had made the field for the first time in 30 years but that the entire roster consisted of transfer students.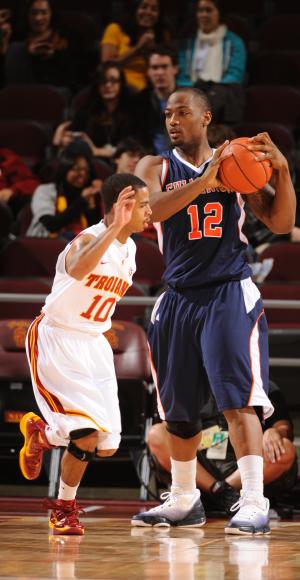 Caption: Jer'Vaughn Johnson is a senior in his third year with the Titans after two seasons at San Diego State. Photo by Matt Brown
Most successful programs are the result of a methodical building process. The traditional national powers identify prospects as early as junior high school, follow them through travel team or AAU schedules, then sign them as high school juniors and/or send them to prep school. Players often are redshirted (held out of competition) as freshmen to develop their bodies and skills and learn the offensive and defensive "systems."
Like most of his predecessors, Titans' Coach Bob Burton relies on the "homecoming" method — picking up Southern California high school players on the rebound from an unsuccessful and/or unhappy start at a distant 4-year campus. He augments that source with community college transfers.
"I was a junior college coach for 30 years, so I'm used to having a player for only one or two years," Burton explains. "And, it solves the attitude problem. They can't transfer again."
Or, as coaching legend Jerry Tarkanian once said with sarcasm: "I like transfers because they already have a car."
This year's Titan roster is typical.
The starting frontline is comprised entirely of Div. I transfers. Compton resident Jer'Vaughn Johnson is a senior in his third year in the program after two seasons at San Diego State. San Diego resident Andre Hardy is in his second year after two seasons at Oral Roberts in Tulsa, Ok. Orane Chin didn't come "home" but the Miramar, Fla., native is a transfer from South Florida who heard of Fullerton's welcome mat for transfers.
If you see three tall young men in civilian clothes on the Titan bench, that's the nucleus of next year's team — players who transferred in this year and have to sit out one season per NCAA rules. They are 6-foot-7 forward Omondi Amoke and 6-foot-4 guard D.J. Seeley from UC Berkeley and 6-foot-3 guard Kwame Vaughn from the Uniersity of San Francisco.
That trio brings to 39 the number of Div. I transfers to arrive at Cal State Fullerton in its Div. I history, dating to 1975. Sixteen of them have arrived during Burton's eight-year tenure. Most have blossomed into stars. Conversely, only a handful of players have transferred out and enjoyed significant success.
The most famous incoming Titan transfer was guard Leon Wood. The Santa Monica prep star began his college career at the University of Arizona. But a coaching change in Tucson, the inability to transfer to UCLA because of a conference 2-year redshirt rule and the opportunity to become a point guard for Coach George McQuarn brought Wood to Fullerton for four years and three remarkable seasons. He gained first-team All-America status with the likes of Michael Jordan and Hakeem Olajuwon and won a gold medal with the 1984 U.S. Olympic team. He played in the NBA for six seasons and now is an NBA referee.
The 2008 team was led by honorable mention All-American Scott Cutley, who along with sharpshooting guard Marcus Crenshaw came "home" after two seasons at Kent State. Also on that squad were guards Frank Robinson (from Los Angeles via East Carolina) and Ray Reed (from Los Angeles via Georgetown).
Josh Akognon was one of the nation's leading scorers in 2008-09 after two years at Washington State. Ozell Jones from Long Beach went on to an NBA career after two underclassman years at Wichita State. Jamaal Brown made a lot of money overseas after starting out at Western Kentucky. Kerry Boagni transferred in from Kansas, Van Anderson came from Oregon State and Ron Caldwell abandoned Washington.
For a variety of reasons, the transfer phenomenon barely exists in women's basketball. There are several theories as to why, but most revolve around the fact that there are fewer "enticements" available at either end of the transfer and that the peer pressure to excel is different. The women's team has had only a handful of transfers. In fact, most women's programs attract few community college transfers either.
"There's something to be said, too, for the maturity of transfers," Burton says. "They are older and wiser and have gone through the adjustments to campus life."
January 24, 2011