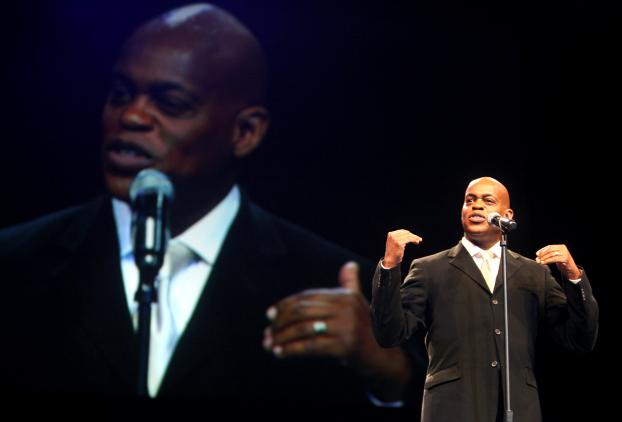 Caption: Jubilant Sykes sang two African spirituals during Front & Center 2011. Photo by Karen Tapia
Being Jubilant
Grammy Nominated Alumnus One of America's Greatest Baritones
OFTEN REFERRED TO AS one of America's greatest baritones, alumnus Jubilant Sykes (B.A. music '79) is jubilant about his life.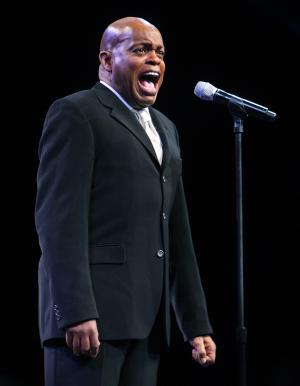 Caption: Thunderous applause followed Jubilant Sykes' performance at Front & Center 2011. Photo by Karen Tapia
Taking the stage at the university's 2011 Front & Center event as the night's master of ceremonies, Sykes sang two African spirituals — "Sometimes I Feel Like a Motherless Child" and "Witness" — and told the audience what lessons he learned when he was a student at Cal State Fullerton.
"I had no direction," he said. "I never envisioned myself on a metropolitan opera stage. I saw my first opera when I was a freshman. One of my professors took me to an opera that he was singing in and he said, 'you know you can do this.' I said, 'I don't even know if I want to.' He said, 'man, you have to work hard.' "
Sykes, who was a 2010 Grammy Award nominee for Best Classical Record, has been a featured soloist with many of the world's most prominent orchestras, including the New York Philharmonic, London Symphony, Boston Symphony, Philadelphia Orchestra, Chicago Symphony and Los Angeles Philharmonic. From Carnegie Hall to the New Orleans Jazz Festival, Sykes has performed at hundreds of major venues.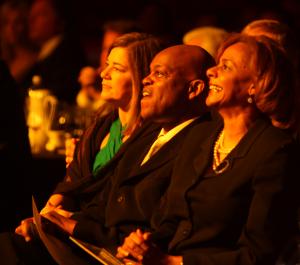 Caption: Jubilant Sykes, center, his wife Cecelia, right, and Congresswoman Loretta Sanchez in the audience at Front & Center 2011. Photo by Karen Tapia
Sykes has been married to his wife, Cecelia, for 23 years and they have three children.
At times, when he was performing far from home, he said he felt loneliness despite all the adoring fans.
But, he credits Cal State Fullerton for teaching him the value of hard work and tenacity.
"I think the greatest lesson that I learned at Cal State Fullerton was being tenacious, not tenacious in the good times, not tenacious when the singing goes well but, when it's bleak and dark, hanging on for the fight," he said, adding that he is a "very proud Titan."
Sykes thanked the audience for buying tickets to the concert and supporting the university.
"This evening really should inspire us to realize how much we have but, more importantly, how much we have to offer," he said.
In 2005, Sykes received the university's prestigious Vision & Visionaries Distinguished Alumni Award.
His varied repertoire has brought a new dimension to the traditional career of the classically trained vocalist by drawing on gospel and jazz influences.
During his time at Cal State Fullerton, Sykes met a benefactor who believed in his passion for music and gave him a scholarship to study in Europe, where he honed his craft in Austria and Paris. In 1990, Jubilant landed his first professional gig as Jake in "Porgy and Bess" with the Houston Grand Opera. This led to being hired, over the telephone, by the Minnesota Orchestra. He also won first place in the regional Metropolitan Opera Auditions in Los Angeles.
Sykes has worked with such notable conductors as Kurt Masur, Leonard Slatkin, John Williams and Marvin Hamlisch. He also has collaborated with a number of leading artists from different musical styles such as the operatic soprano Reneé Fleming. And, he toured with Julie Andrews, and performed with Josh Groban and Carlos Santana.
His albums include "Jubilant" (1998), "Wait for Me," (2001) and "Jubilant Sykes Sings Copland and Spirituals" (2010).
March 9, 2011