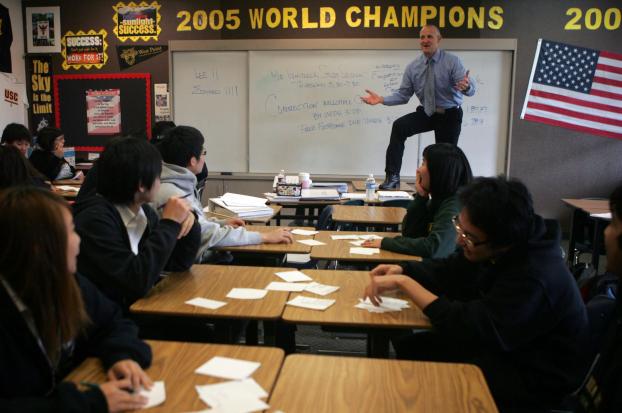 Caption: Sam Calavitta hops on a desk as he teaches his advanced math class to students at Fairmont Preparatory Academy in Anaheim. Photo by Karen Tapia
The 'Cal Method'
High School Math Teacher Inspires His Students
LAUGHTER AND FUN ECHO inside "Mr. Cal's" classroom on a recent spring morning. The exuberant atmosphere contrasts with the expected seriousness of a class in advanced calculus.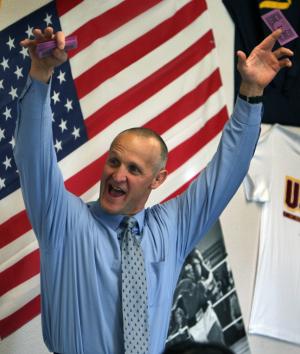 Caption: Sam Calavitta often teaches math, game-show style. Photo by Karen Tapia
To those who know Sam Calavitta (M.A. mathematics '98), it's true to his form as a self-proclaimed unconventional teacher who uses his own "Cal method" of teaching to get his students energized about learning math.
During the 8 o'clock advanced calculus class at Fairmont Preparatory Academy in Anaheim, "Mr. Cal" as his students call him, paces in front of the class, excitedly calling out calculus problems like a game show host.
His dynamic spirit and enthusiasm for teaching is evident as he leaps on top of a desk, challenging his students to answer the advanced problems he had scribbled on the whiteboard.
His students, whooping and hollering, rattle off the correct answers.
Then the bell rings, the room quiets, and Mr. Cal, smiling, sends his students out into the world: "Have a wonderful day!"
His students respond in unison, "Have a wonderful day, Mr. Cal!" And, exit Room 6.
Alum's Encouraging Words
The Cal State Fullerton alumnus goes to extraordinary measures to make sure his students not only "get the math," but also feel a sense of accomplishment and self-worth.
While many of his students at the private school are math whizzes, he stresses that he teaches to inspire the average student to learn and love math.
"Contrary to popular belief, brilliance is not a prerequisite for learning math. Rather, perseverance and diligence over time can certainly equalize — and even surpass innate ability," said Calavitta, who has taught everything from remedial math to advanced calculus. "I teach my students to never, never, never give up!
"As math teachers, we sometimes demote ourselves to disseminators of information where we rely on memorization and regurgitation in teaching math, which has no relevance to the student. To me, that's not my job as a teacher. My job is to be the inspirer, to nurture students to master math, and to manufacturer success that will transform students' lives."
Calavitta, who has been a teacher in public and private schools for the last 24 years, has captured his classroom experiences and his "Cal Method" of teaching in a recently published book, "Making a Difference: Award Winning Math Teacher Changes the World One Student at a Time" (2010 Shumway Publishing Co.), written with his wife Monica Vaughan Calavitta, who holds a multiple subject teaching credential.
Becoming a Teacher
In college, Calavitta didn't set out to become a teacher. In fact, it took a short stint in the aerospace industry to turn his thoughts and talents toward teaching. After all, his parents were teachers, spending a combined 60 years in the classroom before they retired, and other close relatives were teachers, too.
But, that is not why he chose the profession. He wanted a job where he could help transform lives — and have the "opportunity to affect the future in a positive way."
In 1989, he landed his first full-time teaching job at a high school in Victorville, where he grew up. It was a challenging time as a new teacher, but eventually, he earned the respect of his disengaged, students at risk of failing who, in the end, became his first successes.
It was during that time when he figured out his unique and personal teaching approach to make sure all students realize their potential.
That is what Calavitta describes as the "Cal Method" of teaching, or simply, investing in his students by first, making them feel important, then engaging them in the academics through games, drills, activities and quizzes that reinforce the math concepts.
"My way of teaching combines my own methods and philosophies to create meaningful learning and student success," said Calavitta, a master teacher at Fairmont Preparatory Academy since 2002.
Calavitta readily acknowledges that math wasn't always his best subject.
"I struggled in math," he admitted.
"But I became interested in mathematics, because when I went to college, I figured out that math was not a subjective area. It was an equal opportunity employer, so to speak. In other words, the harder I worked, the better I did based solely on that work I put in."
CSUF Mentors
An accomplished wrestler in high school, Calavitta first came to Cal State Fullerton in 1985 to join the wrestling team. He later transferred and completed his undergraduate degree in mathematics and physical science at Cal State San Bernardino.
After several years of teaching, Calavitta decided to earn a master's degree in mathematics and returned to Cal State Fullerton in 1997. Keeping up with the academic work was difficult, yet the college experience was memorable, he recalled.
At the time, Calavitta attended evening classes, worked three jobs, including his teaching post, had four young children and his wife was expecting their fifth child. Today, the couple has nine children, with the eldest, Ciena, a Cal State Fullerton kinesiology major who is planning a career as a physical therapist.
The math teacher recalled how his Cal State Fullerton professors helped him to be successful in his classes.
"Dr. Friel and Dr. Gannon, in particular, understood my schedule of working and being a family man, and they worked with me around my schedule if I was unable to attend office hours for questions I had," Calavitta said. (James O. Friel is an emeritus professor of mathematics; and Gerald E. Gannon, professor of mathematics, still teaches full time.)
Calavitta also speaks highly about Stephen W. Goode, professor of mathematics, his mentor.
"Dr. Goode totally inspired me," Calavitta said. "The impact he had on me was great with regard to my mathematics education for my master's degree. His standard for excellence never wavered. He challenged me to become the best I could be — and he inspired all of his students to always give their best, which is what I do with my students here."
"He also made himself available whenever his students had a question. I personally met with him every single day I was on campus and in his class for an entire semester. He never made me feel unwelcomed."
What Goode, a faculty member since January 1984, recollected about his former student was his perseverance.
"I remember Sam as being an extremely well-motivated and tenacious student with a very strong work ethic," Goode said. "As I recall, at the time, Sam was already a full-time high school teacher, and during the semester that he was in my classes, his wife gave birth to their fifth child. Nevertheless, not once during the semester did Sam expect any special treatment for the situation that he found himself in."
Goode often gave Calavitta guidance: "My advice to Sam was mostly related to what topics from the undergraduate mathematics curriculum he needed to refresh in order to succeed in our graduate program. He followed this advice to the letter, and subsequently quickly developed into one of the top students in the program."
Today, Goode continues to give his students the same advice.
"At the undergraduate level, I always advise students to take as many of our theoretical courses as possible. Even though they will not be teaching the specific content in those courses as high school teachers, it really helps them to put the topics that they will be teaching into context. Our teaching concentration is well structured in this respect," Goode said.
Preparing for College
Fairmont's Advanced Math program allows students to take college-level courses to earn transferrable college credits through a special high school honors program managed by Cal State Fullerton University Extended Education and administered by the Math Department.
"It is quite unheard of for high school students to reach such levels in high school, yet my students are excited to seize the opportunity that Cal State Fullerton has presented in my classes, as the students who satisfactorily complete these courses are awarded credit on a transferable college transcript," Calavitta said. "The program has allowed the students to embrace college with great confidence and a clear leading edge on their peers in STEM (science, technology, engineering and mathematics) fields."
The math focus reflects Cal State Fullerton's heightened emphasis on increasing student interest in the STEM fields — one of the university's initiatives for 2010-11.
For his top math students, who are well prepared to tackle the rigors of more advanced mathematics, Calavitta uses a college-level textbook, "Differential Equations and Linear Algebra" (2007 Pearson Education, third edition), by Goode and Scott Annin, Cal State Fullerton professor of mathematics.
"The textbook is comprehensive and yet extremely understandable. It does not surprise me that Dr. Goode would produce such a quality book, as he was the best math professor I have ever had," Calavitta said. "In grad school he pushed us to become better than we ever thought we could be and he expected nothing less. I have never learned so much as I did in his graduate-level applied math class. In fact, in many ways, my teaching methods are reminiscent of how he conducted our classes in grad school."
April 20, 2011