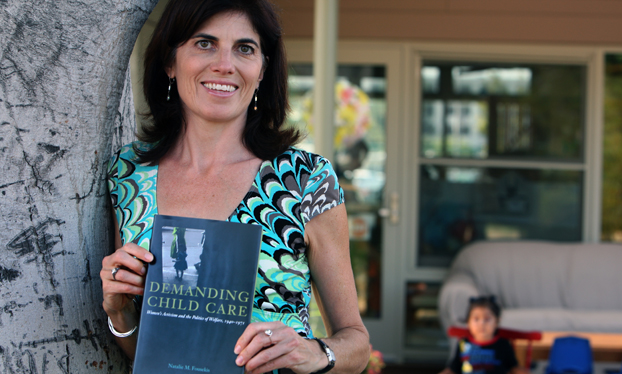 Caption: Natalie M. Fousekis holds her first book, "Demanding Child Care." Photos by Karen TapiaDownload Photo
University Initiative: Bringing the Past to Life
Demanding Child Care
Historian Natalie Fousekis' First Book Traces Women's Activism and the Politics of Welfare
Natalie M. Fousekis, a single working mom, knows firsthand about child care issues facing employed parents.

About the Author
Natalie M. Fousekis
Associate Professor of History and Director
of the university's Center for Oral and
Public History

City of residence: Long Beach

Family: 2-year-old son, Henry, who turns
3 on Sept. 11

Education: Ph.D. U.S. history, 2000, and
M.A. U.S. history, 2004, both from the
University of North Carolina at Chapel Hill
B.A. history from Whitman College in Walla
Walla, Wash., 1990

Year joined CSUF faculty: 2002

Fun fact: "I live across the street from one
of the original Lanham Act child care
centers that I feature in my book (these
were the government-sponsored child
care centers established during World
War II and funded by the federal
government to serve the children
of women working in war-related
industries)."

Favorite historical figure: Alice Paul,
one of the leading figures responsible
for the passage of the 19th Amendment
to the U.S. Constitution.

Favorite book: "Crossing to Safety,"
by Wallace Stegner

Favorite quote: "Life is not measured
by the number of breaths we take, but
by the moments that take our breath
away." — Maya Angelou

Hobbies: running, swimming, hiking
and yoga
"Child care is critical to the economic survival of most American families," said the associate professor of history and director of Cal State Fullerton's Center for Oral and Public History. "More than 50 percent of women with young children are in the workforce today, which means the majority of families need quality child care for their children. As most working parents know, with quality child care comes peace of mind. If we do not provide affordable, quality child care for low- to moderate-income families, then those families are at risk of losing their employment or putting their children at risk by leaving them in unsafe conditions."
Fousekis has been researching the history of child care in America for the past 14 years. Through oral history interviews she conducted with mothers who fought for child care legislation, the historian has written "Demanding Child Care: Women's Activism and the Politics of Welfare, 1940-1971" (University of Illinois Press, 2011), her first book.
In it, Fousekis details how grassroots campaigns were successful in keeping child care services that were created during World War II when women stepped into jobs vacated by men in the armed forces.
The book tells about the federal government establishing public child care centers in local communities during wartime. But when the war ended, the government announced plans to withdraw funding and terminate the child care services. As the services vanished in states throughout the country, women in California protested and successfully lobbied to keep their centers open.
Fousekis analyzes the informal networks of cross-class and cross-race reformers, policymakers and educators, as well as the changing alliances among these groups over three decades.
"During the early stages of the child care movement, feminists, Communists and labor activists banded together, only to have these alliances dissolve by the 1950s as the movement welcomed new leadership composed of working-class mothers and early childhood educators," the author said. "In the 1960s, when federal policymakers earmarked childcare funds for children of women on welfare and children described as culturally deprived, they expanded child care services available to these groups but eventually eliminated public child care for the working poor."
Gordon Morris Bakken, professor of history, a prolific author and one of Fousekis' colleagues at CSUF, called her book and her research "significant not only because it demonstrates the political power of organized women promoting an aspect of social welfare, but also why California is unique in its continuing support of this program for working women."
Though the struggle, financial and political, was daunting, Bakken said, "California women stood firmly against limitations on women and work buoyed by the fact that the 1879 California Constitution specifically prohibits employment discrimination against women. Fousekis adds another chapter to the evolving history of women and work in America."
Fousekis recently answered the following questions.
Q: Why did you write "Demanding Child Care?"
"I wrote this book for two reasons. First, I was interested in looking at child care because affordable, quality child care is key to women's equality in the workplace and the key to the survival of most low-income families. Second, I wanted to understand how a group of women with little power and little political experience were able to convince the state of California to provide them with state-sponsored, education-based child care at a time when no other state in the nation was willing to do so."
Q: What is your own experience with this issue?
"In the fall of 2008, I became a single mother. Juggling work and motherhood has given me even greater respect for the working mothers, in my book, who burned vacation time to lobby the Legislature, stayed up late stuffing envelopes and met after work to discuss their organizing strategy. I feel lucky that I was able to afford having one-on-one care for my son for his first two years of life. He's now at the Early Childhood Education Center at the Alpert Jewish Community Center in Long Beach."
Q: What's so important about what you learned from your research?
"This book traces a moment in history when citizens with little power and political experience influenced the political process by their coordinated efforts and by speaking out in mass.I saw why affordable quality child care is the key to the economic survival of most American families. Finally, state-funded child care programs have served many of California's families, stretching back to World War II and, these programs have meant the economic survival of low-income families, allowing them to work and take good care of their children."
Q: How does California's child care program serve families today?
"Recent budget cuts in California will drastically reduce the number of children the state can serve. The state's child care program, until 2009, provided safe and affordable child care for 300,000 low- and moderate-income families with 200,000 children on the waiting list. According to the California Budget Project, recent cuts to state child care services are reported to force 35,000 children to lose access to these services. Another 6,000 plus will lose access to child care because their income will be above the new level to qualify for the state child care program."
Q: What do you hope readers will get from your book?
"I hope they will realize that providing affordable, quality child care to low- and moderate-income families is something the government should do for its citizens. I also hope that they will see that, as citizens, we need to realize our stake in the political process. This is a story about the promise of American democracy and what can happen when ordinary citizens voice their concerns."
Sept. 6, 2011