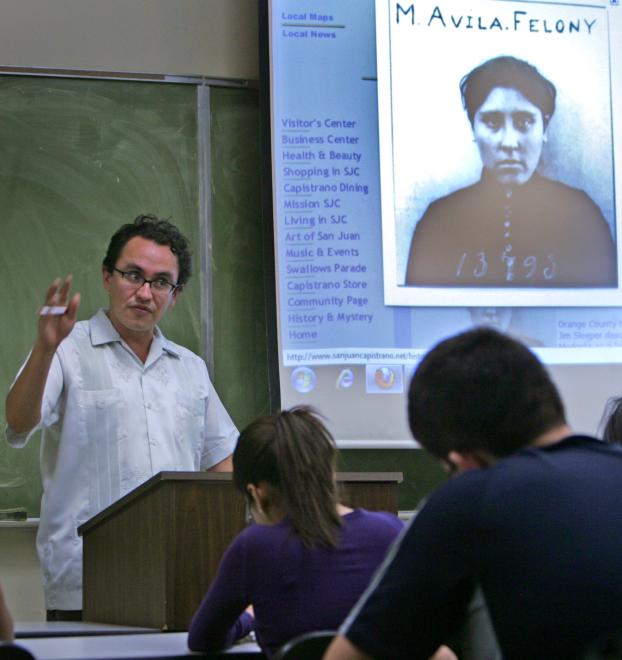 Caption: Gustavo Arellano delivers a history lesson on Orange County's first felon, Modesta Avila, in his "History of the Chicano — The Mexican OC" course. Photos by Karen Tapia
Asking for More
Journalist Gustavo Arellano, ¡Ask a Mexican! columnist, Lectures on Orange County's Chicano History in New Class
Modesta Avila was Orange County's first felon.
It was 1889 when Southern Pacific Railroad was laying tracks in San Juan Capistrano.
"The tracks cut through Avila's family's property," Chicana and Chicano studies lecturer Gustavo Arellano recently told his class. "Modesta gets upset and tells them, 'you can't lay tracks next to our home. This is our land. Leave.' "
The railroad crew did not leave and trains started whistling by, so she protested by erecting a clothesline, or a fence post, with a note that read: "This is my land. If you want to pass, you have to pay me $10,000," Arellano said.
"What do you think is going to happen when a 22-year-old Mexican woman protests the mighty Southern Pacific Railroad? She gets charged with a felony, accused of trying to derail a train," he said. "She gets sentenced to three years in San Quentin, but dies there after serving two years."
Arellano, managing editor of OC Weekly and author of the syndicated ¡Ask a Mexican! column, told Avila's story as part of a new course this semester, "History of the Chicano — The Mexican OC."
He said he is motivating his students "to learn along with me the unknown history of Mexicans in Orange County."
His lively class, peppered with humor but based on historical facts, has created a buzz on and off campus.
When word spread that Arellano was teaching at Cal State Fullerton, students, alumni and community members started calling Alexandro José Gradilla, assistant professor and chair of Chicana and Chicano studies.
"Lots of people got excited and asked if they could enroll or somehow audit the course," Gradilla said, adding that the class was capped at 20 lucky students.
For Arellano, the excitement is about a hunger to learn about Orange County's roots.
"I want students to know Mexicans have done more to better this county than merely picking oranges or mowing lawns," he said. "There's a proud history here."
September 27, 2010