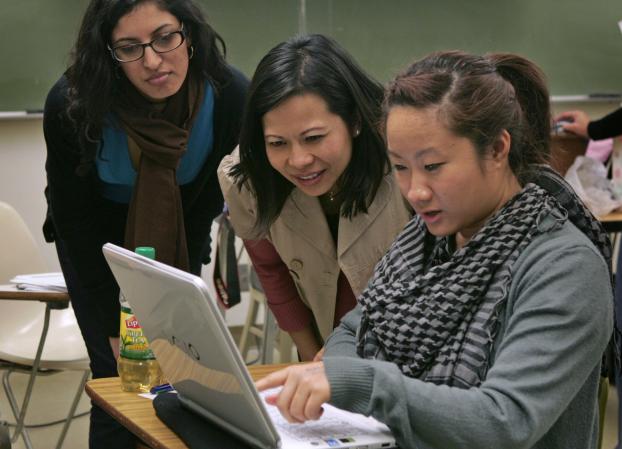 Caption: Tu-Uyen N. Nguyen, middle, explains a survey question to student Nina Nguyen, right. Divya Shenoy, from UC Berkeley, left, and Sang Leng Trieu, from the National Asian Pacific American Women's Forum, not pictured, helped Tu-Uyen N. Nguyen teach the second semester of a two-semester service-learning course on health issues in the Asian American and Pacific Islander community. Photo by Karen Tapia
Raising Awareness
Asian American Studies Course Produces Health Information Campaigns for Asian and Pacific Islander Communities
Eleven students and their professor spent the past year engaged in a community project that has resulted in heightened awareness of sexual and reproductive health issues in the Asian American and Pacific Islander communities in Orange County.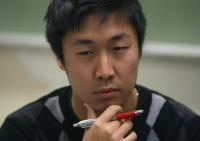 Caption: Student Roger Leu ponders a question during Tu-Uyen N. Nguyen's year-long class that has resulted in a number of ongoing health education campaigns. Photo by Karen Tapia
Through a $9,000 grant from the National Asian Pacific American Women's Forum, Tu-Uyen N. Nguyen, assistant professor of Asian American studies, conducted a year-long service-learning course that produced surveys and delivered results in the form of health education campaigns.
"Prior to taking the class, I had little awareness of reproductive health issues that Asian American and Pacific Islander women face," said Juliane Nguyen, a senior health science and Asian American studies major, who is continuing work on the project. "I didn't know what to expect from this class at first, but I was very interested about learning how many factors affect health. I learned about reproductive justice and how women are still fighting to have sovereignty over their sexuality, gender and reproduction."
The course — offered in the fall of 2009 to 23 students and spring of 2010 to 11 of the original 23 students — taught the previously mentioned topics and trained the students in social science research methods so that they could go out and conduct surveys, Tu-Uyen Nguyen said.
"Students also learned about a variety of other related topics such as mental health issues, environmental justice, and certain chronic diseases that are not uncommon in the Asian and Pacific Islander populations," she said. "The framework for the class focused on a community-based participatory research model whereby students were encouraged to learn about the issues, do a comprehensive literature review, and come up with ideas for potential social action campaigns that they could implement on campus to raise awareness about Asian and Pacific Islander sexual and reproductive health issues."
As part of the class, the students surveyed more than 800 female Cal State Fullerton students and found that most of the sexually active women surveyed do not seek reproductive health care, birth control or get Pap tests (exams that screen for cervical abnormalities and cancers).
The survey found: Asian and Pacific Islander women were the least likely to get a Pap test or to use contraception such as birth control pills and condoms.
The survey results led to the information campaigns, which have been presented by Nguyen, her teaching assistants —  Divya Shenoy, from UC Berkeley, and Sang Leng Trieu, from the National Asian Pacific American Women's Forum — and the students at various conferences nationwide. Their last presentation, titled "Campus Community Engagement: Young Asian and Pacific Islander Men and Women's Voices on Issues of Sexual Health," was at the California Wellness Foundation's conference in Los Angeles on Sept. 29.
Nguyen, who received the "Outstanding Service-Learning Instructor Award" from the university's Center for Internships and Community Engagement as a result of the class, said she and her students get a number of invitations to make presentations and they plan to continue to do so. The aim, she said, is to inform women, especially Asian Americans and Pacific Islanders, about the health care services available to them and to stress the importance of getting Pap tests and learning about sexually-transmitted diseases and related health issues.
Besides making presentations, her students are raising awareness through journal writing, Internet blogging, social media and art.
Juliane Nguyen, for example, recently won a T-shirt design contest aimed at educating the public about HPV, or sexually-transmitted infections, that can cause cancer. Her design featured male and female logos with "+HPV" on the man and the words: "One out of every two people will have HPV. Which one are you?"
Darren Kong, a senior Asian American studies major, said the class was an eye opener for him.
"I never knew about the wide range of health topics and services we discussed in class," he said. "The knowledge I gained makes me want to discuss what I learned with everyone I meet. It's really important to educate ourselves about health issues, especially today, with all the problems we're facing as a nation."
More information about the class project can be found at these web pages:
October 21, 2010