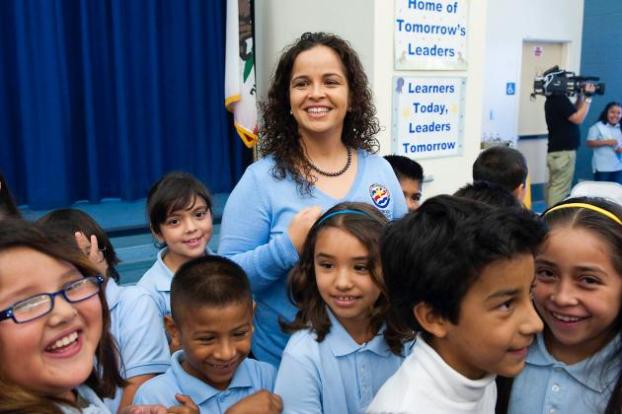 Caption: 2010 Milken Educator Award recipient and CSUF alumna Tamara Garfio is congratulated by her Maywood Elementary School students. Photo courtesy Milken Family Foundation
Award-Winning Teachers
Alumni Garner Honors as Exceptional Educators
GRADUATES working as teachers are making a difference in classrooms throughout the county, state and nation.
Each year, because of their exceptional work as educators they are selected for prestigious teaching honors. Most recently, several alumni have received top accolades. They include: Tamara Garfio, recipient of the 2010 Milken National Educator Award; Beverly Berekian, named a "Distinguished Teacher" by TEACH California; and Jennifer Bremer and Amy Welch, 2011 Orange County Teachers of the Year.
Tamara Garfio
Garfio, a Maywood Elementary School third-grade teacher, calls her job the best in the world.
"I love kids. I love teaching," she said.
Her students call her an excellent, though strict, teacher.
So it was no surprise to them when Garfio recently was presented with the 2010 Milken National Educator Award.
"It's an honor, a great honor," said Garfio, who began her teaching career 10 years ago and described herself as stunned and speechless when she was given the award during a schoolwide assembly.
"I do work hard but I feel like this award is for all teachers," she said. "This recognition is for all of us."
As part of the award, Garfio, mother of three children, also received $25,000, which will go toward paying student loans and taking a vacation.
"This is not a lifetime achievement award," Lowell Milken, chairman and co-founder of the Milken Family Foundation, told her. "We are presenting this to you because you have distinguished yourself and you have so much more potential."
Garfio's peers also praised her for caring about her students and their parents.
To engage her students, for example, Garfio conducts her class much like a college seminar, asking them to drive the conversation with sophisticated questions. She models the thinking process and uses strategies to teach students to become independent problem solvers.
Moreover, by making students accountable for their own progress, they develop life-long learning strategies, she said.
With such preparation, 90 percent of her students this year scored advanced or proficient in the language arts on the California Standardized Tests (CSTs). In district-level math assessments, her students also performed at stellar levels, scoring 85 percent or higher. Year after year, her students perform at top levels.
To encourage parents to get involved in their child's education, Garfio also offers training classes to help them understand what each student needs to know. She also organizes and coordinates an accelerated reader program for students.
Garfio, of Whittier, who earned a bachelor's degree in child and adolescent studies in 2000, is considering pursuing a master's degree in education at Cal State Fullerton.
Education reform leader Lowell Milken launched the Milken Educator Awards in 1987 to celebrate, elevate and activate exemplary K-12 educators. The awards, hailed as the "Oscars of Teaching" by Teacher Magazine, have been instrumental in communicating to parents and policy makers alike the proven fact that the quality of the teacher in the classroom is by far the most important school-based factor in determining student achievement.
Beverly Berekian
What Berekian enjoys most about teaching is making a difference in students' lives.
"One of the most important things for a new teacher to do is to know their students," Berekian said. "It is also important to let your students get to know you. They like to know that their teacher is human. It makes them feel special to hear things about you that may seem silly to you, but is important to them."
For her outstanding performance as an educator, Berekian has been honored as a "Distinguished Teacher" by TEACH California. She teaches 9th-grade earth science at Magnolia High School in Anaheim.
Berekian, who completed the single subject credential program in geosciences in May 2010 and earned a master's degree geology in 2008, has been teaching for two years. The science focus reflects the university's renewed emphasis on increasing student interest in the STEM fields — science, technology, engineering and mathematics.
"To be recognized so early in one's career is, to say the least, an honor. It is testimony to the program that I was part of to attain my credential, as well as the program through which I obtained my master's degree in geology," she said.
Berekian co-teaches a science methods class in the university's credential program and "has established a great rapport with our teacher candidates," said Victoria B. Costa, director of the university's science education program.
"I'm thrilled to recognize her achievement and feel lucky to have her involved in the program," Costa said.
Receiving the award, Berekian said, has inspired her to continue to bring the best and most engaging course work to her students.
"I am who I am today because of all the great teachers who have inspired me and shared their knowledge with me," the Cypress resident said. "I love helping my students see the planet that they live on in a different light, and figure out how Earth works."
TEACH California is a special project of the California Department of Education, Special Education Division and is partially funded from federal funds. The CDE supports TEACH California, whose original design and structure was created by CalTeach (California Center for Teaching Careers), a program administered by the California State University Chancellor's Office.
December 15, 2010