UNIVERSITY INITIATIVE: SHAPING THE FUTURE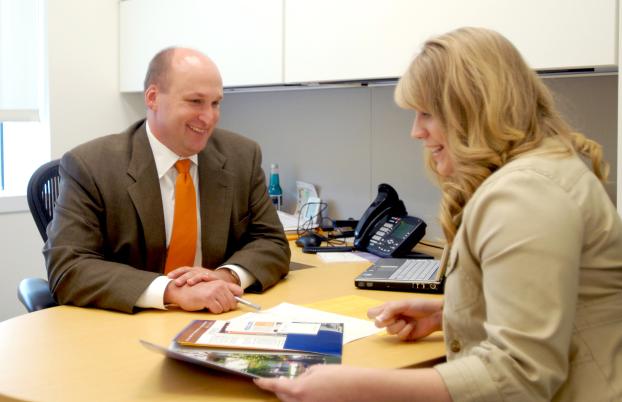 Caption: Van Muse, left, talks with graduate student Jolene Hill. Photo by Kelly Lacefield
M.B.A. for Working Pros
Irvine Campus Offers Accelerated Part-Time Program
For busy professionals juggling the demands of work and family who want to enhance their education with a master of business administration degree, Cal State Fullerton offers two options, both part time, both rigorous and both successful.
The Irvine Campus program, called FEMBA for "Fully Employed M.B.A.," places students in cohorts of classmates that attend the same six- or eight-week courses together throughout the two-and-a-half-year program.
"We established the program for individuals who have a wide range of educational and professional backgrounds, with between five and seven years of experience," said Van Muse, director of the M.B.A. programs. "It's not a flexible program in that participants don't get to choose a concentration or select when they will take a specific course, but it does provide a sense of intimacy, coordination and the ability to better know your fellow classmates."
M.B.A. student Jennifer Martin agrees that the cohort process does create a sense of intimacy and camaraderie.
"I have grown close to a group of classmates and our ability to openly share our individual experiences has contributed to our learning outcomes," she said. "This type of intimacy would never be achieved in a class in which no one knew anyone else going in. Also, as someone above the average-aged M.B.A. student, I am grateful for classmates of similar ages and professional experience levels at the Irvine Campus."
Classes always begin at 7 p.m. and, depending on the cohort, on the same days of the week for the entire length of the program, unlike the Fullerton campus program in which students can take the courses — unless there is a prerequisite — in their order of preference, said Muse.
"We've discovered that this provides the best means for someone who does work and wants to get an M.B.A. to be able to balance their workload and their family," said Muse.
Interest in the program has increased. This fall, the university is running two cohorts in the FEMBA program.
"Fullerton has always had a name in the business world here in Southern California as a program with high standards and reputable output as far as students go," said first-year M.B.A. student and CPA Brad Rockabrand. "When I was considering graduate programs, Fullerton became very attractive. However, I have built my life around being fully employed, which proved difficult as far as degree procurement.
"When Van told me about the FEMBA program, I knew it was the right thing for me. The availability of a program as reputable as Fullerton's, offered in an evening format, in accelerated eight-week classes located near my home in Dana Point, made it an ideal setting for my graduate studies. I am rather new to the program; I just started this fall, but have been fully satisfied with the content so far."
Rodrigo Garcia, district manager of fiscal affairs with the North Orange County Community College District, also likes the FEMBA program for its accelerated and smaller classes, which he feels creates more opportunities for one-on-one interactions between the faculty member and students.
"The professors are very understanding of our position as working professionals and can relate a little more with where we're coming from," he said. "They work with you a lot.
"I really enjoy the cohort aspects, too," Garcia said. "While we come from many different fields, it's an opportunity to get a wealth of information, as well as get to see the other side of the picture. It's been a great experience."
Muse and associate directors Kate Guerrero and Deanna Shoop review all M.B.A. applications to make sure students are in the best program for them.
"I'm glad that we are able to give that personal review," Muse said.
Because of the streamlined approach, students who entered the program with undergraduate business degrees are able to waive certain classes that either were the same or similar to courses they already completed.
"We're now looking at offering alternate courses that would further strengthen the education that they are receiving," Muse said.
"The new Irvine Campus location for spring will provide us with new space and amenities for a future where we can offer more cohorts and more specialized instruction," he added. "We hope to be a part of the stronger Irvine presence serving the needs of future business leaders in the region."
November 19, 2010