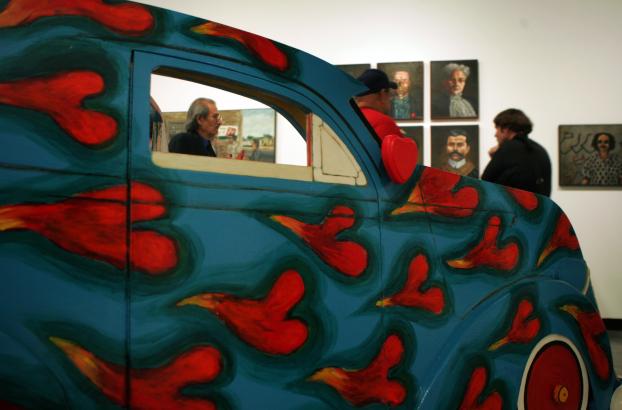 Caption: Artist Emigdio Vasquez is seen through an art piece, "Califas Corazon" by Gilbert "Magu" Lujan, at the "Detras de las Cortinas" exhibit, which held its opening reception at Grand Central Art Center on Sept. 4. The exhibit runs through  Oct. 17. Photos by KAREN TAPIA
Curtains Rise on OC Chicano Art
'Detras de Las Cortinas' Showcases Works by Local Latino Artists at CSUF's Grand Central Art Center in Santa Ana Through Oct. 17
Hundreds of art lovers recently attended the opening reception of "Detras de las Cortinas," an exhibition featuring Chicano artworks at Cal State Fullerton's Grand Central Art Center in Santa Ana.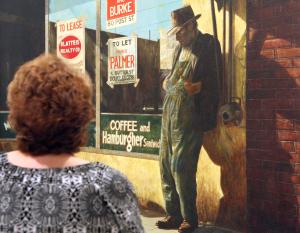 Caption:  Rosa Baella views Emigdio Vasquez artwork at the "Detras de las Cortinas" exhibit.
The exhibit's name is the Spanish phrase that translates to "behind the curtains." It features a group of Orange County artists — Cal State Fullerton alumni Emigdio Vasquez (B.A. art '78, M.A. art-drawing and painting '79), Jose Lozano (B.A. Art '83, M.A. art-drawing and painting '85) and Abram Moya (B.A. sociology '72), Atilano, Henry M. Godines, Greg Stone, Matthew Barrios Southgate, Gilbert "Magu" Lujan and Rosemary Vasquez Tuthill — whose work alludes to a number of metaphoric curtains.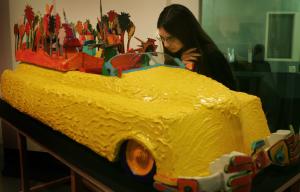 Caption: Anna Brittell looks closely at "Limoztlan" by Gilbert "Magu" Lujan, which is part of "Detras de Las Cortinas." 
"The first 'curtain' that comes to mind is the Orange Curtain," said Mike McGee, professor of art, director of Cal State Fullerton's Begovich Gallery and founder of the Grand Central Art Center, who curated the exhibit with Dennis Cubbage, the center's director. "This is a derogatory term, most often used sardonically by Los Angelinos. For the most snobbish, 'behind the Orange Curtain' connotes a dismissal image of Orange County as a cultural wasteland, void of esthetic sophistication and appreciation for anything that is not bland."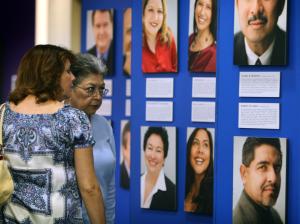 Caption: From left, Irma Macias of Long Beach and Elena Macias of Cerritos view the "Querer Es Poder: 50 Examples" exhibit on display alongside "Detras de Las Cortinas" exhibit at Grand Central Art Center.
Another metaphoric curtain that the show addresses, McGee said, "is the kind of cultural fog that keeps some people from seeing other people — even when they look directly at them."
Emigdio Vasquez, who has about a dozen pieces on display, said his art reflects a sort of documentary of Chicanos in Orange County over the last few decades.
"Art should not just be decoration," he said during the exhibit's opening night Sept. 4. "It's a statement about life. My art talks about my environment, my experiences."
Added Moya: "This exhibit shows that there is a lot of culture behind the Orange Curtain. It's not just Disneyland. We have good cultural roots here."
The exhibit "says to me that the presence of the Chicana and Chicano has always been in Orange County and so has the story of struggle," CSUF student Anna Diaz Villela said. "This exhibit is a great manifestation of  the countless themes of the Chicana and Chicano art movement that began in the 1960s and continues to this day. Hopefully, this exhibit will educate and inspire future generations of Chicanas and Chicanos who wish to express themselves, their community, and their ideas through the medium of art. The pieces reflected all the themes that are close to the heart of every Chicana and Chicano: familia, love, passion, happiness, history, culture, community and sense of self."
Alongside "Detras de las Cortinas" is Cal State Fullerton's award-winning "Querer es Poder: 50 Examples" photo exhibit. It features 50 of the university's successful Latino graduates.
The exhibits run through Oct. 17. A closing reception will be held from 7-10 p.m. Oct. 2. It will feature a panel discussion with the featured artists of "Detras de las Cortinas."
The art center is at 125 N. Broadway, Santa Ana. Hours are Tuesday through Sunday, 11 a.m. – 4 p.m., with extended hours Friday and Saturday, 11 a.m. – 7 p.m. grandcentralartcenter.com.
A video slideshow is available on you tube and in the Orange County Register.
September 23, 2010