CSUF Students Spend Springtime in London
by Susan Katsaros
from Dateline (January 30, 2003)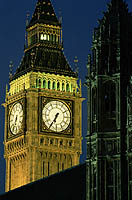 A record number of Titans kicked off the New Year in London.
Twenty-two CSUF students joined colleagues from Cal State Long Beach and San Diego State as participants in the CSUF London Semester Program coordinated by the College of Humanities and Social Sciences.
"This is wonderful for our students. It is really a once-in-a lifetime opportunity," noted Mitchell E. Avila, assistant professor of philosophy, who is serving as adviser for the spring semester program.
Participants from campus are Lauren Blackler and Kimberly Cohen, both pre-business administration majors; Heather Bradshaw, Sandy Fon-dren and Eleanor Salyer, all child and adolescent development majors; Tina Knebl, criminal justice; Heather Bohn, Ryan Gallacher, Jennifer Morgan, Julie Revollo, Enna Ruiz and Hazel Villafuerte, all communications; Haddy A. Homampour, English; Hiral Savani, business administration-finance; Rebecca Anhorn, geography; Sandra Carlos, Floyd McKeehan and Lisa Sheldon, all liberal studies; Paul Gallego, Laura Kawar and Deborah Walker, all psychology; and Shannon Love, undeclared.
"This summer I took a mini trip to London and fell in love with the art, culture and friendly people – I decided to return to study and explore while earning university credit," said Bradshaw.
Participants earn 12 units toward their degree from attending courses taught by CSU faculty members. Classes include "Shakespeare I," "The Short Story, Innocents Abroad," "Aesthetics: Philosophy of Art," "Philosophy of Sex and Love," "World History to 1500," "World History for Teachers," "History of Britain" and "British Life and Culture."
Avila, who is teaching two philosophy courses, thought so highly of the international experience that he brought his family with him. "It's a great opportunity to be introduced to another culture in an urban environment."