DeLana Bush-Hamblin Returns to Campus She Remembers as Home
BY VALERIE ORLEANS
From Dateline (September 2, 2004)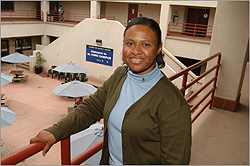 DeLana Bush-Hamblin, an operations systems analyst at Cal State Fullerton's El Toro Campus, relaxes on one of the campus balconies. Bush-Hamblin's father was stationed at El Toro when she was a child. Returning to work at the El Toro Campus brings back many fond memories.
---
For DeLana Bush-Hamblin, going to work each day is like, well, like going home. Except in this case, home used to be El Toro Marine Corps Air Station ... and now it's home to Cal State Fullerton's El Toro Campus.
As the operations systems analyst, she's in charge of almost all pieces of technology at the South County campus: TV, VCR, DVD players, computers, televised classes, copy machines, phones – you name it. And while she's always enjoyed her work and Cal State Fullerton (she's an alumna and had worked at the former Mission Viejo site), arriving to work at El Toro seems very familiar.
Hamblin shares her viewpoints on work-ing at the same base where she spent her formative years.