"Heart of My Heart"
Barbershop Quartet Raises the Spirit and Puts Smiles on Faces
February 11, 2008
By Pamela McLaren
If you thought that barbershop quartet was only old songs that no one cared about, you'd be wrong. Although members of these groups do sing a few old standards, such as "Sweet Adeline," "My Wild Irish Rose" and "Let Me Call You Sweetheart," that's only a small part of their repertoire.
"Barbershop today is not your grandfather's style," says Ray Young, associate vice president of academic programs, who says barbershop quartets sing a wide range of musical styles from vocal jazz, musical classics, religious to Doo-Wop, and there are plenty of young folks joining in the fun.
The current International Chorus Gold Medalist and 2007 Far Western District Champions of the Barbershop Harmony Society is the Westminster Chorus, a group of singers under the age of 30.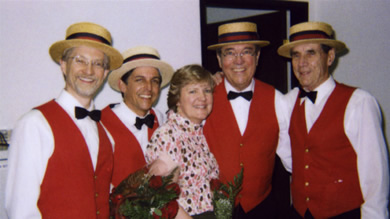 Staff member Pam McLaren (Public Affairs) gets a Valentine surprise by a quartet from the Orange Empire Chorus.
Young sings bass as a member of the Orange Empire Chorus, the North Orange County chapter of the Barbershop Harmony Society, an international organization of about 30,000 members.
The local group regularly performs holiday shows — dressed as singing waiters — and a spring concert. But one of the busiest times is during the month of February when they are seen locally and on campus serenading individuals. No singing valentine is complete without a long-stemmed rose and a photo with the quartet. The money raised from the singing valentines and performances goes to middle and high school music programs. Last year's efforts garnered approximately $50,000, says Young.
"I call it therapy," he says with a chuckle. Although Young claims he is not a musician, he does love music and he's a member of a family that is very musically inclined. His wife, Kiyo, clinic secretary for the campus Speech and Hearing Clinic, and his son, Brian, are both avid amateur musicians.
"My son was in barbershop for about 5-6 years before I decided to join," he says. Young says he used to go to his son's performances and Young's wife would catch him singing along. She encouraged him to join.
"Then one birthday Brian gave me a pitch pipe, a learning tape and a book of songs, along with a (Orange Empire Chorus) logo shirt," remembers the campus administrator who has been a member for about four years."How could I not at least show up?
"We have a good time," says Young, who notes that the group's motto "is not 'we're number one,' but We're Number Fun."