The Road Taken
CSUF Alumnus Went From College Washout to Sharing Stage With Bill Gates
April 15, 2008
By Russ L. Hudson
Alumnus Michael Johnson (B.S. electrical engineering, í07), now an electrical engineering graduate student in USCís Viterbi School of Engineering, stood on a stage in Redmond, Wash., recently and gave what was described by USC professor Alan Willner as "a rousing and impressive welcome" to Microsoftís Bill Gates, then shook Gatesí hand and yielded the microphone.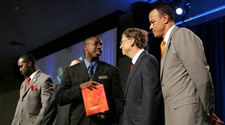 And that was after organizing the Western Regional conference of the National Society of Black Engineers (NSBE). The Western Region includes 13 Western states, including California.
"It was unreal," said the 24-year-old graduate student afterward. "I was so excited and so nervous. I still donít know what happened. It was awesome Ö like the icing on the cake after putting that conference together.
"That right there was a once-in-a-lifetime opportunity," Johnson said.
Willner, one of Johnsonís professors, went on to say, "For him to chair a 2,500-member organization and chair a meeting for hundreds of people so early in his career, and in such a humble way, shows incredible future potential. And when I saw him introduce Bill Gates, I was just floored. Heís a very special person, mature, bright, personable and extremely well-rounded. He is what weíd like all of our students to be."
Johnson gives most of the credit for what he has become to Cal State Fullerton. He needed a second chance, he said, because he didnít start very well Ö and that chance came from his undergraduate alma mater.
"I owe much of my early success to the seeds that Cal State Fullerton has planted for me. I joined the Air Force after being on academic probation at Cal Poly Pomona. When I was out of the Air Force, I began re-applying to get back into college. I applied to about seven Cal State campuses and got rejected from all seven, including Cal State Fullerton.
"However," he said, "CSUF was the only university to give me an explanation: My rejection letter said I didnít have at least a 2.0 grade point average.
"But then came my second break. CSUF allowed me to change my GPA by allowing me to drop the poor grades of courses I successfully re-took most of them at Pasadena City College in his home town, bringing my GPA up to just over 2.0.
"Much of my leadership development I attribute to Yen Ling of the Multicultural Leadership Center, Julie Stokes of the African-American Faculty and Staff Association, Miguel Martinez of CASECS (Center for Academic Support in Engineering and Computer Science) and College of Engineering and Computer Science Dean Raman Unnikrishnan, along with the rest of the electrical engineering faculty and staff," the alumnus said. "Those people, along with my peers, provided me with an environment conducive to learning and achieving my potential.
"Even when I began my leadership activities as the chapter president of NSBE," he said, "Lisa Jones, then ECS assistant dean of student affairs, provided me ó and the then-tiny NSBE chapter ó with tremendous support to build the chapter up to what it is now. That is the way I remember Cal State Fullerton: If you had a dream that you were passionate about, the students, faculty and staff would serve as a great support system."
"To this day," Johnson said, "whenever I go back, it feels like a family."
Unnikrishnan remembers Johnson well, both as a student and as one of those who helped to rebuild the university's NSBE chapter. "Michael Johnson was an outstanding student and an outstanding student leader. His educational success in electrical engineering is taking him to graduate school and, Iím sure, beyond. His leadership with NSBE made a fledgling group into a national award-winning organization that continues to excel."
NSBE and Cal State Fullerton provided another helping hand to Johnson. After earning his bachelor's degree, he went to find a job and earn a living, but thought his involvement in NSBE Johnson made friends who encouraged him to take advantage of a leadership opening at the organizationís regional level. He was elected regional chair and applied to USC, a university with a different kind of significance for him: Years before, his father attended USC and ran on the Trojan track team.
He didnít completely give up earning a living, however. Besides taking classes at USC and heading the regional NSBE office, he works part-time at Northrop-Grumman and is still in the Air Force Reserves.
It leaves him with a hectic schedule, but he accepts that as a positive, with a philosophical twist that he learned from those who helped him.
"Itís difficult and itís rough," said Johnson, "but I look at it like itís giving me my work ethic." And, as far as NSBE, "you donít owe it to yourself. You owe it to the ones who are coming up behind you.