Sign On, Camera, Podcast!
College of Education implementing programs, strategies to teach in digital classrooms
May 6, 2008
By Debra Cano Ramos
For Cal State Fullerton's credential candidates who want to be successful teachers in 21st century digital classrooms, the College of Education has embraced the use of technology.
"The College of Education is revolutionizing teaching and learning through technology, which makes content and lessons come alive and helps to engage learners," said Claire Cavallaro, dean of the College of Education. "We prepare our teacher candidates to use new technologies to become leaders in education."
The college recently opened a new podcasting studio for faculty members and implemented a one-to-one laptop program for elementary credential students, and has plans to install interactive, Internet-connected whiteboards in class­rooms. The college also has implemented an array of online courses, including the university's first online master's program — a master of science in instructional design and technology — developed and taught by faculty members across the college.
Ongoing professional development and support for faculty members is being offered. And, by the fall semester, the college hopes to have iTunes U, developed and hosted by Apple Computer Inc., available to students and faculty members. iTunes U is an online interface that allows students to download free podcasts of course lectures, faculty notes and other instruc­tional materials — just like they do music, said Lynda Randall, professor of secondary education and podcasting project coordinator.
Closed captioning will be added to podcasts and full-text scripts also will be available, Randall said.
A podcast, Randall explained, is any form of digital media distributed over the Internet for playback on digital media players and personal computers.
"Podcasts have excellent potential for use by faculty and students to enrich the learning experience," she said. "This technology is very important in preparing our teachers to be fully equipped with the skills and knowledge to implement technology in their own classrooms."
Benefits of podcasts include: 24-hour-a-day online access to lectures or other instructional and educational materials, personalization and augmentation of online instruction through digital media. Faculty members can create podcasts, using video and audio software, on their laptop or in the studio to give their students one-on-one feedback, information about upcoming lectures or advice on how to be successful in a course.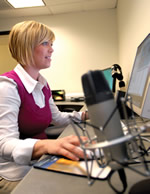 Jennifer Ponder works on her podcast. Photo by Kelly Lacefield.
To date, more than 50 podcasts, accessible with a Mac or personal computer, have been created for use in instruction.
"Individuals can go to a site and easily search, download and play course content that is immediately available," Randall said.
Wayne Au, assistant professor of secondary education, creates weekly podcasts to support his online courses. He gives students information about upcoming lecture topics and is considering creating a blog. The podcasts help humanize and personalize the learning experience, he said.
"Through the podcasts, students can see my energy and personality," Au said. "It also helps to enrich the course and makes online courses more effective."
Chris Street, associate professor of secondary education, also takes advantage of the technology to add pizzazz to his courses. He incorporates voice and video to PowerPoint presen­tations to make them more interactive and engaging.
"Students learn a lot more this way and the plus is that they can access the materials any time and any where," Street said.
The Department of Elementary and Bilingual Education has created the first "technology-rich" block of courses, in which a cohort of teacher candidates are using laptops to use, and learn, creative technologies to be prepared to teach in a digital classroom. Loretta Donovan, assistant professor of elementary and bilingual education, whose expertise includes educational technology, leads the program.
Through the pilot laptop program, teacher candidates learn how technology can be used in their own teaching, said Tim Green, associate professor of elementary and bilingual education and an instructor of the pilot program.
"Our students are able to try technology in teaching while learning in a safe environment where they can experiment and get feedback. The credential students also are experiencing, as students, what it feels like to be on the using end of technol­ogy," Green said.
As part of the program, the 29 students pursuing a multiple subject teaching credential each received a university-provided MacBook laptop and software for use in class and at home during the 2008 spring semester.
To see College of Education podcasts, visit http://web.mac.com/csuf_education/Education/Welcome.html.