Alliance for the CSU
Students, Staff and Faculty Rally to Stop Proposed Cuts to the CSU Budget
April 3, 2008
by Paula Selleck
photos by Kelly Lacefield
A standing-room-only crowd of more than 700 faculty, staff and students packed the Titan Student Union's Portola Pavilion March 25 to hear campus leaders decry proposed cuts to the California State University budget and urge attendees to contact state lawmakers to voice their opposition.
"Mess with the CSU and you mess with California," said Anthropology Department Chair Jack Bedell, professor of sociology and president of the California County Boards of Education. Bedell served as moderator for the program, introducing speakers — leaders of employee and student groups — who are championing a joint advocacy effort under the umbrella of the Alliance for the CSU.
One by one, they addressed the ways in which Gov. Schwarznegger's proposed $386 million in cuts to the CSU budget would adversely affect California, threatening the CSU's ability to produce enough graduates to meet the state's needs.
They discussed how access to the CSU would be denied to 10,000 eligible students if the cuts are implemented, resulting in "less access for the underrepresented," said CSU Trustee Debra S. Farar.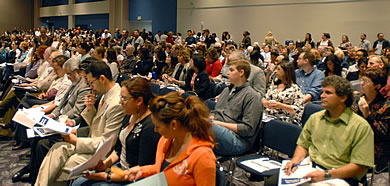 A standing-room-only crowd of more than 700 students, faculty and staff members packed the Titan Student Union's Portola Pavilion on March 25 to hear campus leaders discuss the impact of proposed cuts to the CSU budget and urge attendees to contact state legislators to voice their opposition.
"As a major supplier of graduates for California's workforce, we serve as a powerful engine for the state's economy," said Farar, a CSU graduate and former elementary school teacher who had served as senior adviser on education to then-Lt. Gov. Gray Davis.
"California is in a dire fiscal situation, and the legislators are facing tough decisions," she said. "We're especially concerned about cuts to higher education," she added, noting, "CSU provides access to a diverse spectrum . . . and represents their entrée into to the middle class."
CSUF graduate Janette Hyder (B.S. human studies/B.A. ethnic studies-Chicano studies '97, M.S. counseling '02), chief steward of the CSUF chapter of Academic Professionals of California, discussed the importance of access to the CSU from her personal experience as an EOP student and financial aid counselor. She also spoke of the "pipeline of students: K-12 is two-thirds people of color."
For those who are the first in their families to attend college, the CSU may be their only affordable option, she explained. "We must ensure that working families and underserved communities have access to higher education."
Noting that "CSU is the solution," Mougu Nyaggah, president of the CSUF chapter of the California Faculty Association and associate professor of history, donned one of the T-shirts being distributed with that slogan.
"California's economy thrives on knowledge-based innovation, and California is the key to that knowledge-based innovation," he said. "For every $1 the state invests in the CSU, the state gets back $4.41."
During his turn at the podium, Jay Jimenez, president of the CSUF chapter of the CSU Employees Union, ticked off a list of job groups in California that draw more than half of their workers from the ranks of CSU graduates: 65 percent of those in business, 66 percent in nursing, 87 percent in education and almost 90 percent of those in criminal justice.
He characterized the proposed cuts as "devastating" and predicted that "the impact will reach far beyond our state workforce."
According to Willie Hagan, vice president for administration and finance and CFO, Cal State Fullerton's share of the proposed budget reduction would be $18.1 million. He outlined the impact for the campus and for the community the university serves:
Access denied to up to 1,000 fully eligible upper-division transfer students
Cutting over 1,200 course sections in the next academic year
Fewer part-time faculty members employed
An increase in student time to degree
Reduced expenditures on facilities maintenance
He likened the scenario to "eat[ing] your own seed corn," referencing the plight of farm families during the Great Depression. Already, he pointed out, "we teach more students than we're funded for," which drew shouts of agreement from the audience, and added, "without this cut, it will be extraordinarily difficult."
Returning to the podium, Bedell said: "Think about it; picture it: 1,200 fewer classes next year. If nothing focuses our attention like a guillotine, that shall."
Academic Senate Chair Diana Guerin spoke of the shrinking ranks of the permanent faculty at a time of "rapid student growth and the failure to get the support of the state." Recalling the mid-year budget cut of 2004, she noted that just nine faculty members were hired at Fullerton that year. "Think how different it would be if we had 250 more faculty in labs, in classrooms, working with students."
Despite CSUF President Milton A. Gordon's mandate to conduct 100 faculty searches each year for five years, the gains made so far, in this third year of the effort, will "just barely" replace those who are retiring or leaving the system, she said. "That's how budget cuts have already impacted faculty."
She began her remarks by urging that "public safety must be protected, buildings must be maintained and offices must be staffed."
Students were not only in the audience and on the dais as speakers during the session, but also visible in video clips that personalized the discussion threads, as they commented on the impact that higher fees and fewer class selections would have on them.
Also during the session, members of the Alliance for the CSU moved through the audience collecting enrollment cards from prospective volunteers, and Lynda Randall, Academic Senate secretary, vice president of the CSU chapter of the CFA and professor of secondary education, led attendees in a brief letter-writing session.
As the meeting ended, the letters were collected for presentation to Sacramento legislators next month. Many of the remaining attendees joined a noontime "fight back" rally on the Performing Arts Promenade, where campus members also posed for a group photo against the backdrop of a giant cutout of Tuffy Titan with his empty pockets turned inside out.