Journey of Hope
Fraternity President Cycles Across America to Raise Awareness, Funds for Disabled
August 27, 2007
By Debra Cano Ramos
Cal State Fullerton fraternity member Steve Toney beat the heat and blisters this summer to bicycle 4,100 miles across the country to raise awareness about the disabled.
President of Fullerton's Pi Kappa Phi chapter, Toney spent 64 days peddling for Push America, the national philanthropy of his fraternity. Nearly 90 members from Pi Kappa Phi chapters across the country joined Push America's 20th annual "Journey of Hope" cycling team.
Three teams of cyclists traveled on three different routes, visited 32 states and raised more than $520,000 for disabled programs and services throughout the U.S.
Despite getting heat exhaustion cycling through Bullhead City, Ariz., in 118-degree weather, suffering from "saddle sores" and going through at least 30 flat tires, Toney called the bike tour a trip of a lifetime.
"It was a challenge for me, but I feel like I completed the most important thing in my life," said Toney, whose 50-member chapter was founded on campus in 1989.
Toney's team of 28 cyclists and seven crew members left San Francisco June 10 and traveled across the southern United States. They ended the tour Aug. 12 at the U.S. Capitol Building in Washington, D.C.
"Steve's dedication and commitment to cycle across the country not only benefits the disabled in this country, but heightens attention about Pi Kappa Phi's philanthropy, the positive work of Greek organizations and our university," said Juanita Razo, the university's assistant dean of students. "His efforts demonstrate the strong impact fraternity and sorority men and women have in leadership roles locally and in the greater community."
Toney, a political science major who plans to become a lawyer, collected $5,000 in donations from alumni, family and friends. With the money team members raised, monetary grants were awarded to organizations in the cities visited.
Not an avid cyclist, Toney trained for 10 months and rode more than 600 miles to get in shape for his first long-distance bike ride. He bought a $1,600 bike with 27 speeds, protective gloves, shoes and a supply of spare tires. The national fraternity provided team members with jerseys and bike shorts with much-appreciated padded chamois.
Each day of the tour, Toney climbed on his bike at dawn and rode about eight hours, traveling across 12 states through small towns, big cities and state capitals. He witnessed the country's natural beauty as he rode by lakes, rivers, canyons, thick forests and waterfalls. He passed through Death Valley, the plains of Texas and the lush green hills of Georgia. He climbed the Rockies in New Mexico, the Blue Ridge Mountains in Virginia, and the most challenging, the Sierra Nevadas, where he peddled 6 mph to climb 8,000 feet, then raced 45-50 mph down. "It was scary, but exhilarating," he said.
During his travels, Toney slept on high school gym floors and ate home-cooked meals from people who welcomed the college students to their communities. Each day, the team met with organizations that support people with disabilities. Toney met children who played baseball for the first time from their wheelchairs, visited a clinic for people with autism and mentored abused and neglected teens with mental conditions.
"It was an eye-opening experience to see what people with disabilities can do and how these organizations help to improve their quality of life," said Toney, who plans to graduate in December.
Experiencing firsthand the impact the fraternity has on making a difference in the lives of people with disabilities was a life-changing experience, Toney said.
"It changed my life for the better. I'm glad I did it. I'm not an athlete, or a professional cyclist. Riding across the country was very physically and mentally demanding," he said. "But the trip was important; it taught me empathy, in that there are people who cannot open doors for themselves, those who can't eat on their own and a million other stories. To go through the pain and anguish of the Journey of Hope was our tribute to those with disabilities."
For more information, go to www.fullerton.edu/deanofstudents/greeklife; www.pushamerica.org.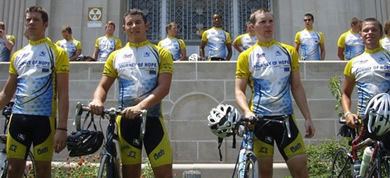 Steve Toney and his fraternity brothers from Pi Kappa Phi stop at Portales City Hall in New Mexico, where the mayor declared July 9 'Push America Day.'