Grant Funds Effort to Incorporate Art With Academics
Elementary School Teachers Learn Skills to Teach Visual Arts
May 29, 2007
By Debra Cano Ramos
"If you give a man a fish, you feed him for a day. But if you teach him how to fish, you feed him for a lifetime." That sums up Ginger Geftakys' philosophy when it comes to teaching elementary school teachers how to teach art to their young pupils.
Geftakys, a lecturer in elementary and bilingual education, and Teresa Crawford, associate professor of elementary and bilingual education, have set out to "reel in a lot of fish." Two years ago, the pair created Teachers and Students as Artists, a program that provides visual arts training to teachers and student teachers in local K-6 public schools.
"We wanted to embed the knowledge and the skills of visual arts in the minds of the teachers through quality art projects with the children, which would be the same as teaching the teacher how to fish. And by teachers teaching art to their students, the students then have that art knowledge for a lifetime," said Geftakys, who is also an artist.
Added Crawford: "What we see as a main benefit of this program is that training the teachers as artists gives them the skills and understanding of simple art processes that can be integrated with curriculum to meet state art and content standards."
Geftakys said that many elementary teachers don't have a background in teaching art and often are intimated by it.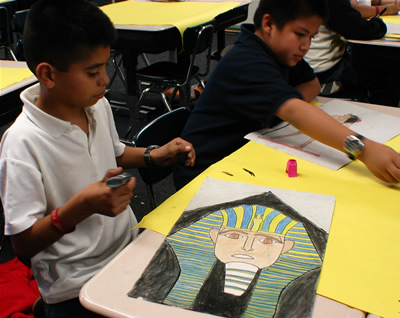 A student from Richmond Elementary School paints an Egyptian pharaoh to reflect studies about ancient civilizations.
"There are some teachers who have the mindset that 'I can't teach art because I am not an artist.' But it's relatively simple to teach art. It's no more difficult than learning how to teach reading," said Geftakys, who teaches a visual and performing arts method course and also supervises student teachers in public school classrooms. "This program helps to give teachers the tools — and the confidence."
Kim Gibbons, a sixth grade teacher at Golden Hill Elementary School in Fullerton, said she had little previous art experience until she became involved with Teachers and Students as Artists.
Gibbons added that the program has given her a hands-on opportunity for exposure to, and appreciation of, art in the classroom.
"By being allowed to be a 'student myself,' I feel more comfortable about teaching a lesson successfully," she said.
At the same time, creating art boosts young students' confidence and learning curve, and also gives them a sense of pride and accomplishment.
"I have found that integrating art into the content areas of curriculum adds depth of understanding for the students. I have also noticed that the actual act of 'doing' creates more concrete and lasting meaning," Gibbons said.
To acknowledge the students' work, the College of Education recently hosted a reception for the young artists, their families and teachers who participated in this year's program. During the afternoon event, 30 students from Golden Hill and Richman elementary schools received certificates of appreciation from Claire Cavallaro, dean of the College of Education. Their work is being displayed in the halls of the Education-Classroom Building.
"The reception is a celebration of the children's artistic endeavors, and by inviting them to the university for the event, we are able to take advantage of the opportunity to promote higher education," said Geftakys, who taught elementary school for 21 years.
Geftakys and Crawford received a $5,000 intramural grantto start the program in 2005-06. As part of the program, workshops were held for 50 teachers at Fullerton and Placentia schools. Not only did the program provide teachers with artistic training but skills on integrating art with curriculum, focusing on language arts, math, science and social studies.
This year, students at Richman Elementary School drew Egyptian pharaohs to reflect their studies about ancient civilizations. Students at Golden Hill Elementary created koi fish art relating to their lessons about ancient China.
"The general consensus was (that) the history of koi fish and the importance of art in the ancient Chinese civilization made a lasting impression on them," Gibbons said.
Cal State Fullerton credential students also got involved in the program and worked side by side with the public school teachers and their young pupils. "The long-term goal is that they will experience the advantages and impact the integration of art has on student learning and use what they've learned when they become classroom teachers," Crawford said.
Crawford said that they continue to work to secure funding sources and hope to offer the program to schools in the upcoming year and beyond.
For Gibbons, she hopes that the program will be offered next year since it has a positive influence on elementary-age students.
"I find that enrichment activities such as art provide a broader spectrum to the curriculum," Gibbons said. "I feel that education should expose students to the connections of history, science, math and literature. Art is one way to demonstrate these connections (through) programs such as Teachers and Students as Artists. Omission of art … leaves a void in the instruction."