Communications professors contribute photos
to Smithsonian exhibit
February 20, 2007
By Valerie Orleans
The lives and culture of Vietnamese living in Southern California are reflected to 14 photographs featured in a current Smithsonian Institute exhibit, "
Exit Saigon, Enter Little Saigon
."
The images were gathered by communications professors Jeff Brody and David DeVries from exhibits the duo created: "Project 20" and "The Vietnamese: Self Portraits of a People."
"In 1995, we conceived the idea of creating a juried photo exhibit about the lives of Vietnamese who had been displaced by the war," said Brody, a former
Orange County Register
reporter who covered the Vietnamese community. "It coincided with the 20th anniversary of the fall of Saigon and we wanted to show images that represented how the Vietnamese in America were holding on to their culture … and participating in American culture at the same time."
The other exhibit, "Vietnamese: Self-Portrait of a People," showcased photographs from people throughout Southern California.
"We had our CSUF students involved as well as students from UCI, Rancho Santiago Community College, different high schools, members of the community, you name it," Brody recalled. "We ended up receiving more than 8,000 images. From those, we narrowed it down to 120 images."
The Brody/DeVries gathered images selected by the Smithsonian are part of a larger collection on display through the
Smithsonian's Asian Pacific American Program
. The show explores how Americans have perceived Vietnamese Americans in the three decades since the war in Southeast Asia, as well as the challenges that these immigrants faced and the contributions that the Vietnamese have made to American culture.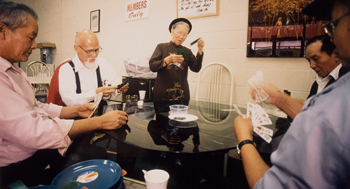 Vinh Tran, left, Giai Ngyen, Bichnga Hoang, Kham Ngyn and Lai Ngyn play a Vietnamese game of 120 cards at the senior center in Westminster.
Photograph by Cheryl Evans.
Photograph courtesy of the Orange County Register.
more photos
"We are very excited to be a part of this national collection," said DeVries, who has taught photographer at Cal State Fullerton since 1983. "This is the culmination of years of work to document the history of the Vietnamese people. To have some of these images end up in an exhibit at the Smithsonian is incredible."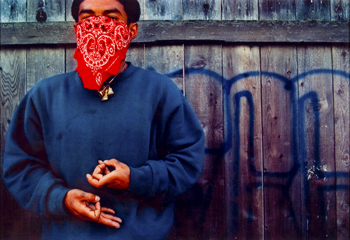 Asian Boys gang member "Slick" flashes his gang signs.Slick, 24, is Cambodian-American and has been a member of a gang for twelve years.
Photograph by Juanito Holandez
Photograph courtesy of the Long Beach Press Telegram
more photos
Among the images that the Smithsonian selected are those of a Vietnamese police officer, a woman praying with monks in the background, a close-up of a Catholic ceremony, a woman praying at a Buddhist temple, a gang member with a tattoo, elders playing cards and a Vietnamese boy scout.

The Smithsonian exhibition continues through March then becomes a touring exhibit through 2011.