Practicing Persian
Students totally immersed in language and culture program at CSUF
July 16, 2007
By Mimi Ko Cruz
With their eyes closed, sitar player Kourosh Taghavi and singer Khosro Ansari perform classical Persian music.
Ansari sings a poem by 14th century poet Hafez of Shiraz, whose prose pondered love, faith, wealth, hypocrisy, sincerity, war, peace, hope, greed, envy, generosity, fear and grief, among other heavy topics.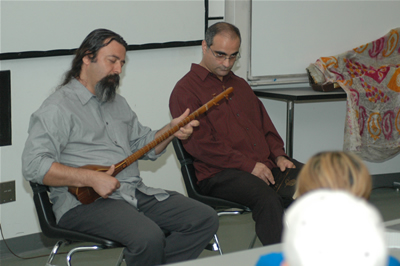 Kourosh Taghavi, left, plays his sitar and Khosro Ansari sings during a recent class on classical Persian music.
The concert was just the beginning of a a lesson on the history of Persian music for 19 students attending Cal State Fullerton's six-week Persian immersion program, which is part of the California State University Strategic Language Initiative.
The language immersion program, which started last month and concludes Aug. 3, features two tracks on Persian: one for beginners and one for "heritage" speakers, or students who already speak some Persian but are not considered fluent and may not read and write at an advanced level. During the fall and spring semesters, students may enroll in more Persian studies courses and the program culminates with a study abroad project next summer.
Students in the Intensive Immersion Language Program are receiving scholarship support that covers housing on campus, meals, class fees, books, travel and field trip costs.
"This program is a godsend," said 30-year-old Awad Awad, a doctoral student in Arabic language and culture at UCLA who is enrolled in the institute's beginner track. "Not only does this program fulfill a requirement for my Ph.D., but it is really organized and I'm now starting to speak Persian. Because I don't have to worry about food and rent, I'm really focused on the language and culture and I'm learning more than I ever thought possible."
For Malorie Negar Meschkati, a 19-year-old double major in biology and Middle Eastern history at the College of New Jersey, attending the institute is helping her gain knowledge that will be useful when she becomes a medical doctor.
"It's going to let me do what I've always wanted to do," said Meschkati, who is enrolled in the institute's advanced track. "I want to move to Iran and practice medicine there…. This institute is a once-in-a-lifetime experience for me. It's very challenging, but as the days progress, I'm like, Wow! I could speak Persian but, I couldn't read or write it before and now I'm really able to do it."
The students have visited the Los Angeles County Museum of Art to see its Islamic exhibit and Persian artifacts; toured a neighborhood in West Los Angeles, where Iranian restaurants and other businesses are abundant; and attended the Los Angeles Film Festival to see the Iranian film "It's Winter." One night a week, they have dinner at Darya, a Persian restaurant in Orange County. Thomas P. Klammer, dean of the College of Humanities and Social Sciences, also hosted a dinner for the students at his home.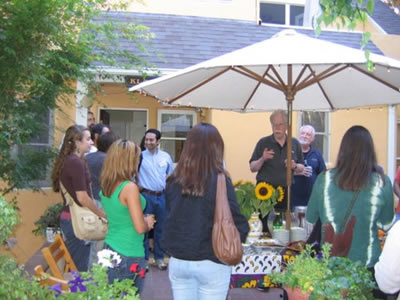 Dean Thomas P. Klammer speaks with Persian Institute students at his home.
The students — Americans who attend colleges and universities, including Cal State Fullerton, the American University at Cairo in Egypt, UC Irvine and Rice University — were chosen from 90 applicants.
"These are very serious students," said David McKenzie, assistant dean of the College of Humanities and Social Sciences. "They're really dedicated."
The California State University Strategic Language Initiative was designed to teach Persian, Arabic, Korean and Chinese so Americans can work more effectively with the citizens of countries where those languages are spoken.
Other campuses participating in the Strategic Language Initiative are Cal State Long Beach, which is teaching Chinese; Cal State San Bernardino, Arabic; Cal State Los Angeles, Korean; and Cal State Northridge, Russian.
"We are one of the few universities in the country to provide summer intensive courses in Persian," said Ghazzal Dabiri, director of Cal State Fullerton's Persian studies. Dabiri and lecturer Parastoo Danaee are teaching the summer courses.
A typical day of classes includes vocabulary review, audio taped conversations, reading and writing in Persian, learning the significance of Iranian cultural celebrations and holidays, and watching and discussing Iranian films.
"It is a great opportunity for students who wish to become more familiar with Persian language and culture since the program is free and they are immersed in the language and culture," Dabiri said.
Cal State Fullerton has been offering classes in Persian for several years but the intensive summer course is designed for those who wish to learn the language more rapidly.
Global situations in the past few years have highlighted the critical need for expertise in the "strategic languages," Dabiri said.
For that reason, the U.S. departments of Defense and State have called for collaborative efforts to fill critical shortfalls in speakers of Persian, Korean, Arabic and Chinese. The languages chosen as "strategic" are those that are critical not just for national security, diplomacy, intelligence-gathering and international business, but also for developing deeper levels of cross-cultural understanding.
For more information about the program, visit http://hss.fullerton.edu/hss/persian.