Parking Structure Receives Award
American Institute of Architects Recognizes Campus and Architects
Oct. 16, 2007
by Pamela McLaren
Cal State Fullerton's Nutwood Parking Structure and architects, AC Martin Partners, were honored last month with an award of merit from the Orange County chapter of the American Institute of Architects.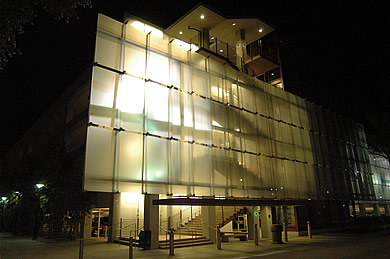 Nutwood Parking Structure
The award was presented during the AIA Orange County's 32nd annual Design Awards Gala.
The five-story facility, located at the corner of State College Boulevard and Nutwood Avenue and completed in 2004, is 764,005 square feet in size with space to park 2,500 vehicles.
Because of its size, the architecture was designed to create large, unobstructed floor areas and features decorative screening that allows for air and light to enter the structure. In the evening, the building's lighting creates a soft glow to minimize glare and to welcome visitors to the campus's arts district.
The structure was honored previously by the American Institute of Architects Long Beach Chapter, which presented its "Honor Award" for architectural design excellence to AC Martin Partners and the university in 2005.