CSUF Graduate Student is First Recipient of $6,000 CSU Award
Vietnamese Immigrant Wants to Help Abused and Neglected Children
September 17, 2007
By Debra Cano Ramos
Cal State Fullerton graduate student Kylie T. Nguyen has been selected by the California State University as the first Trustee Murray L. Galinson Scholar — a top honor among recipients of the 2007-08 William R. Hearst/CSU Trustees' Award for Outstanding Achievement.
The CSU Trustees will honor Nguyen Tuesday, Sept. 18, at the CSU Office of the Chancellor in Long Beach. She is among 23 students, one from each campus in the system, to be named Hearst/CSU Trustees' Award recipients.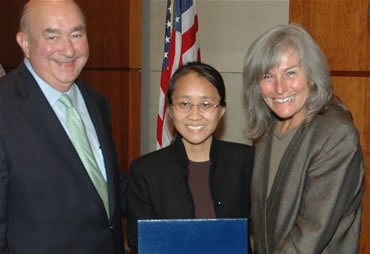 From left, CSU Chancellor Charles B. Reed, Kylie Nguyen and Roberta Achtenberg, chair of the CSU Board of Trustees.
The eldest child of an immigrant family from Vietnam, Nguyen will receive a $6,000 scholarship as the Trustee Murray L. Galinson Scholar. The honor is designated for the Hearst award recipient who "best exemplifies extraordinary public service." Galinson is trustee emeritus of the CSU Board of Trustees; he served as chair from 2004-06 and endowed the scholarship in 2007.
"I'm so excited. I've worked hard and I've put myself out there," Nguyen said. "It's a humbling experience to be receiving this award. I've been very privileged to be a student at Cal State Fullerton, and I feel that this award brings recognition to the university, and that means a lot to me personally."
Nguyen earned her bachelor's degree in human services in May from Cal State Fullerton and is now enrolled in the university's master's degree program in social work. Because of her own experiences and struggles as a child, her ultimate goal after finishing her education is to work with abused and neglected children.
"I am particularly drawn to work with underprivileged children who carry deep pathological wounds, due to neglect and abuse," said Nguyen, who lives in Fullerton and plans on pursing a doctorate.
Her community work has included being a project director at the CSUF Volunteer and Service Center and performing volunteer work at a Santa Ana homeless shelter. She also served as president of the Vietnamese Catholic Student Association and this year, is the organization's co-adviser.
An active researcher, Nguyen's undergraduate achievements included working on a research team to produce the 13th annual Report on the Conditions of children in Orange County; serving as a book reviewer for the eighth edition of the "Theory and Practice of Counseling and Psychotherapy," authored by Gerald Corey, emeritus professor of human services; and participating in the National Science Foundation's 2006 Research Experiences for Undergraduates. She also completed a research study on "Trauma-based Treatment Approaches in Out-of-Home Care" and presented it last year at the Florida Mental Health Institute and UC Berkeley.
Nguyen was also part of CSUF's McNair Scholars program, named for astronaut and Challenger space shuttle crewmember Ronald E. McNair and established by the U.S. Department of Education in 1986 to encourage students to pursue graduate studies. The program provides opportunities to participate in research studies with faculty mentors, as well as help to develop the skills and mentor relationships critical to success at the doctoral level. Her research focused on the trends of foster care in Orange County.
Nguyen, 33, said she had a challenging childhood similar to others who have journeyed from another country to start a new life in the United States. She missed out on enjoying her early years in her new country because while her parents worked hard to make ends meet, she devoted her time to help raise her three younger siblings.
"My parents came to this country with nothing," said Nguyen, who was 6 years old when her family arrived in the United States in 1980, fleeing the communist country after the fall of Saigon. "With four children to raise, they worked long hours to keep a roof over our heads — and they needed me to watch my siblings. I didn't have much of childhood; though it wasn't their intention, I felt neglected and abandoned. I didn't have a sense of identity."
After high school, instead of going to college as her parents wished, Nguyen fled to seek her own path in life. She embarked on a 12-year journey that involved volunteering for nonprofit organizations around the country and working primarily with at-risk youth and the elderly. She wanted to make a difference in the lives of people she met and worked with.
Nguyen was nominated for the Hearst Award for her exceptional academic performance and commitment to education and community service, said Robert L. Palmer, CSUF's vice president for student affairs.
Palmer said the university is "indeed fortunate to have a student of this caliber at our institution."
The CSU Trustees also will present two students with a $6,000 Trustee Ali C. Razi Scholar award, for the top-scoring recipients of the William R. Hearst/CSU Trustees' Award. Additionally, $3,000 scholarships will be awarded to students who have demonstrated financial need, experienced personal hardships and have attributes of merit, including superior academic performance, exemplary community service and significant personal achievements.
The William Randolph Hearst Foundation originally established an endowed scholarship fund in 1984 to honor William Randolph Hearst, founder of the Hearst newspaper chain. In 1999, the William Randolph Hearst Foundation partnered with the CSU Board of Trustees to supplement the endowment with contributions from CSU Trustees and private donors.