Promoting Diversity
CSUF and Howard University Strike Agreement That Brings Pre-Doctoral Fellows to Campus to Teach
August 20, 2007
By Mimi Ko Cruz
In a move that promotes diversity and helps with faculty recruitment, Cal State Fullerton and Howard University officials Friday signed an agreement that brings to campus three pre-doctoral fellows. Howard University, in Washington, D.C., is a comprehensive, research-oriented, historically black private university.
The agreement, signed by Cal State Fullerton's President Milton A. Gordon and Orlando L. Taylor, dean of Howard's Graduate School and vice provost for research, establishes a pre-doctoral internship for Howard graduate students completing their dissertations. This fall, Andrene Taylor and Kellie Weiss are on campus, teaching women's studies and English classes, respectively. A third intern, Ingar Johnson, will teach sociology during the spring semester.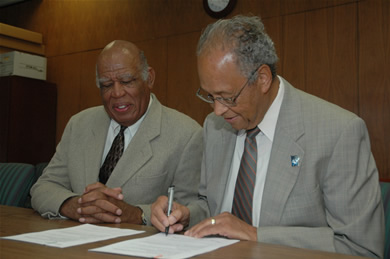 Dr. Orlando L. Taylor (left), Vice Provost for Research and Dean of the Howard University Graduate School and CSUF President Milton A. Gordon signed the agreement on Friday, August 17 establishing a pre-doctoral teaching internship for Howard doctoral students.
"This is an opportunity for us to increase the diversity of our faculty," Gordon said. "Howard University is the nation's largest producer of African American Ph.D.s and we are excited about being the first university west of the Mississippi to partner with them."
Howard has similar partnerships with 11 other universities on the East Coast.
"California is a national leader of a lot of important educational initiatives and to have our students take part in this agreement is a huge opportunity for our institution," Taylor said.
The partnership was initiated by Thomas P. Klammer, dean of the College of Humanities and Social Sciences; Steven N. Murray, dean of the College of Natural Sciences and Mathematics; Howard administrators; and graduate students in that university's Preparing Future Faculty Program.
"The pre-doctoral fellows will spend a year with us, teaching a class and learning what is involved in being a professor while they finish their dissertations," Klammer said. "We see this as both a faculty recruitment strategy and a diversity tool, since many of Howard's students are African-American."
The goals of the pre-doctoral internships are to enhance faculty diversity in American higher education and the quality of graduate and undergraduate education, as well as increase diversity and cultural understanding in collegial and institutional relationships.
As part of the agreement, Howard will invite Cal State Fullerton faculty to join in academic events and projects sponsored by faculty at the Washington, D.C., university and assure that those chosen for the internships are prepared to teach. CSUF will pay the interns' salaries and provide mentors, office space and formal evaluations.
Weiss, whose hometown is Pittsburg, said she chose Howard to pursue her doctoral degree because it is known for its African American literature program. Getting to study and teach on both coasts, she said, has exposed her to cultures she had never known, growing up in a mostly Caucasian family and neighborhood.
"The population at Howard and here in Fullerton have been so welcoming," she said. "I feel like I'm getting the best of diversity on both sides of the country."