Greek Week Hits Jackpot
Annual Event Raises More Than $15,000 for Camp Titan
April 23, 2007
Cal State Fullerton's fraternities and sororities recently came together for a weeklong celebration of fun, frivolity and fund-raising — Las Vegas-style.
Themed after Vegas' glitzy hotels, Greek Week featured the university's fraternities and sororities participating in a host of activities and friendly competitions, including chalk mural and lip-syncing contests, sports and games such as three-legged races and tug of war.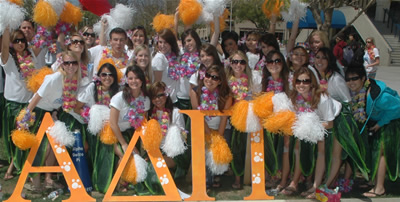 Members of Alpha Delta Pi Sorority say "aloha!" to Greek Week, held April 9-15.
The main purpose of the annual event is to raise money for Camp Titan, a Cal State Fullerton philanthropic program that provides underprivileged Orange County children the opportunity to spend a week in the local mountains. This year, the CSUF students raised more than $15,000 for the summer program.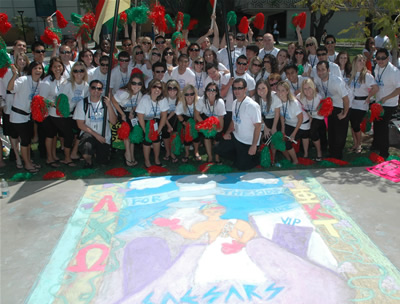 Members of Phi Kappa Tau and Alpha Chi Omega get into the spirit during Greek Week, which raised more than $15,000 for Camp Titan.
Greek membership numbers approximately 1,000 students who are members of 26 fraternity and sorority chapters. Each chapter is affiliated with one of four Greek governing councils: the National Panhellenic Council; Interfraternity Council; Multicultural Greek Council; and, National PanHellenic Council.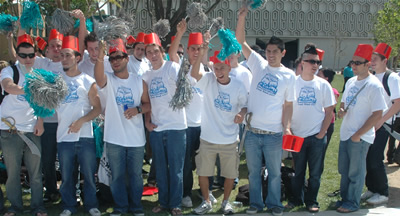 Fraternity brothers show their spirit during this year's Greek Week festivities in which money was raised in support of Camp Titan.
Students in these fraternities and sororities also devote more than 3,000 community service hours to local causes such as breast cancer research and domestic violence, as well as support philanthropies like the Boys and Girls Club and the Ronald McDonald House. Each chapter conducts community service events in which their members participate and the governing councils sponsor events throughout the school year. For more information, call 657-278-3211 or go to www.fullerton.edu/deanofstudents/greeklife/.