Faculty Members Participate in Los Angeles Times Festival of Books
Featured Speakers included Sonenshein and Snow
May 7, 2007
By Mimi Ko Cruz
Raphael J. Sonenshein, professor of political science, and Nancy Snow, associate professor of communications, were featured speakers at this year's Los Angeles Times 12th Annual Festival of Books at UCLA.
Sonenshein, author of "Los Angeles: Structure of a City Government," "The City At Stake: Secession, Reform and the Battle for Los Angeles" and "Politics in Black and White: Race and Power in Los Angeles," served on a panel titled "The Promised Land: California and the American Dream" about California's direction in the future and the roles of the governor and Los Angeles mayor.
His fellow panelists were Jim Newton, "Justice for All: Earl Warren and the Nation He Made"; and Joe Mathews, "The People's Machine: Arnold Schwarzenegger and the Rise of Blockbuster Democracy." The moderator was Sacramento Bee columnist and author Peter Schrag, "California: America's High-Stakes Experiment."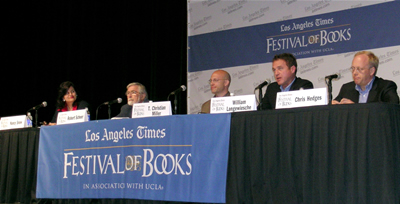 Snow, author of "The Arrogance of American Power," "Information War: American Propaganda, Free Speech and Opinion Control Since 9/11" and "Propaganda, Inc.," served as a panel moderator for "Iraq: What's Next?" Her panelists were T. Christian Miller, "Blood Money: Wasted Billions, Lost Lives and Corporate Greed in Iraq"; Robert Scheer, "Playing President: My Relationships with Nixon, Carter, Bush I, Reagan and Clinton — and How They Did Not Prepare Me for George W. Bush"; William Langewiesche, "The Outlaw Sea: A World of Freedom, Chaos and Crime" and Chris Hedges, "American Fascists: The Christian Right and the War on America." The session was recorded live on C-SPAN's Book TV. ( http://www.booktv.org/feature/index.asp?segid=8172&schedID=485)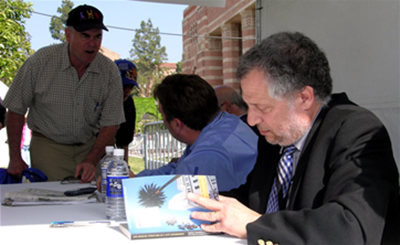 Following their panel discussions, which were well attended, Sonenshein and Snow signed copies of their books for hundreds of fans. Their appearance at this year's Festival of Books was the first time Cal State Fullerton faculty members have participated in the event, which was attended by more than 100,000 people.