Helping Rwandans Defeat Death
One-time ballerina earning her master of public health degree, heading to Africa as Fulbright Scholar
May 14, 2007
By Mimi Ko Cruz
Poised to leap from the classroom to the field, former ballerina Christine Brackett is choreographing her next move. But, this act is no graceful dance: She's headed for Rwanda, ready to do battle with death, disease, hunger and infant mortality.
"I live in the richest country on the planet," said Brackett, a Cal State Fullerton graduate student completing her master of public health degree this month. "I'm lucky. But, there are people dying in Africa and I feel a sense of responsibility. I know I can't save the world, but I think we can all do something to make a difference globally."

Brackett spent the last two summers as a volunteer in Rwanda, living among people suffering from disease and malnourishment and watching babies die. In October, the 31-year-old Brea resident will return to the African country where civil war led to the 1994 genocide that claimed nearly a million lives. On her upcoming 10-month tour, Brackett goes back as a Fulbright Scholar with a plan to find ways to help Rwandans keep their infants alive and healthy.
"Children are dying needlessly and I want to help them and their parents and caregivers receive immunization treatment and become empowered to learn about disease prevention and nutrition and make long-lasting behavior change for survival," Brackett said.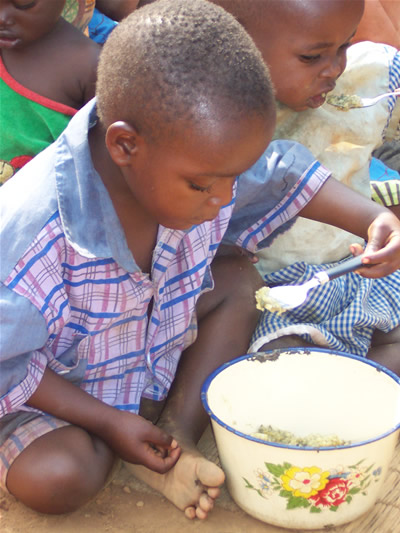 Tens of millions of children in the poorest and most deprived countries die each year because of malnutrition and preventable diseases. UNICEF, the United Nations Children's Fund, calls it "a silent and invisible emergency."
It's devastatingly real for Brackett, who was a dancer with the Milwaukee Ballet Company a decade ago when she realized she was living a privileged life that so many people across the globe could not afford to even dream about.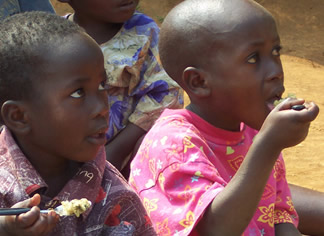 "I began to understand that there are many people in the world who had not had the advantages that I had, growing up in middle-class America," she said. "So, I began sponsoring an Ethiopian girl, Tafese, through a community organization."
Unfulfilled with her career in 1997, she left the ballet company and enrolled as a double major in French and English at the University of Wisconsin. After earning her bachelor's degree in 2001, Brackett moved to California and got a job as assistant to David Pagni, CSUF professor of mathematics and director of the university's Project MISS (Mathematics Intensive Summer Session) and the Mathematics Diagnostic Testing Program, while pursuing her graduate degree and maintaining a high grade point average.

"Christine is the best administrative assistant I've ever hired," Pagni said about Brackett. "She's wonderful, a humanitarian who wants to help others. She's already helped a lot of people in Rwanda. Her heart's in the right place, and she'll be successful in her future endeavors because she is passionate about helping people."
Her professors agree. "Christine has so many wonderful attributes," said Shari McMahan, chair and professor of health science. "She's intelligent, kind and compassionate. I think she will contribute immensely to the field of international public health and we couldn't be more proud of her."
Brackett is this year's recipient of the Health Science Department's Best Thesis Award. Her thesis focused on her work in Rwanda last summer when she investigated the strengths and weaknesses of a nutrition and child survival program funded by the U.S. Agency for International Development (USAID).
The First Evangelical Free Church of Fullerton organized Brackett's first visit to Rwanda in 2005. She volunteered to build homes for widows who lost their husbands and families in the genocide or to AIDS and helped educate people about nutrition and health.
"We wanted to help meet the needs of the poor in Africa," she said. "We partnered with the World Relief organization and it's been an amazing experience."
While Rwandans have been touched by her charity, they have provided her with an unforgettable lesson about life and humanity.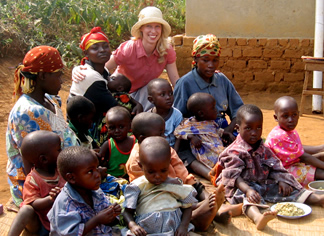 "I met a couple who had nothing but each other and their four children, yet they demonstrated a resiliency, courage and selflessness that we just don't see around here very much," she recalled. "They can barely get by but they took in three orphans and to them, that is not extraordinary, but I thought here's a family who doesn't stop thinking about other people. They made a difference in my life and they showed me that I could make a difference, too.
"You receive so much in return when you give that you just can't really stop," she added. "Every individual has value and worth and through our deeds, we can communicate that message. That's what I want to do — show the forgotten or abused or neglected or suffering that someone cares."