Faculty Conduct Autism Research and Outreach
Efforts are being made to help children with autism and their families
October 29, 2007
By Mimi Ko Cruz
Because autism is treatable, researchers across the campus are addressing it through studies and projects to help children with autism and their families. Here are a few examples:
Suzanne Robinson, assistant professor of special education, is focusing on the dissemination of research-based interventions for children with autism.
"Researchers have done an amazing job discovering a number of extremely effective intervention techniques, particularly in the areas of language, social skills and challenging behaviors," she said.
"Unfortunately, few people are truly capable of implementing these interventions successfully. For this reason, it is extremely important that we work to get research-based practices into the hands of those you need it most — parents and teachers."
To that end, Robinson is investigating video-based training programs that are effective and efficient so that parents, teachers, speech and language pathologists and others can quickly learn the skills necessary to improve the lives of children with autism and their families, she said.
"It is my hope that by continuing this research, parents and teachers will no longer have to pay exorbitant amounts of money or wait 10 years for quality interventions to filter into their communities, as many have experienced, but instead will have appropriate access to state-of-the-art strategies hot off the press," Robinson said.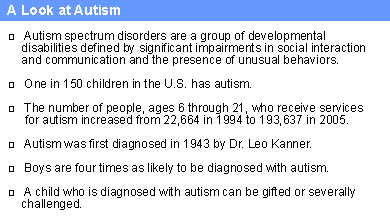 Nancy L. Segal, professor of psychology, and Aaron T. Goetz, assistant professor of psychology, plan to examine the cooperative eye hypothesis (which states that the sclera — the white of the eyes — evolved to be more visible in humans than in any other species because it enhanced cooperation and communication through facilitating gaze direction and joint attention) in adults and children who have autism or sensory processing disorder (a neurological disorder causing difficulties with processing information from the five senses) and children who have neither condition.
"Visible, white sclera provide a contrast with the pigmented iris, allowing others to follow our gaze," Goetz explained. "Our species is characterized by mutual social interactions, and this is easier when individuals can follow each other's eyes."
Therefore, he and Segal will conduct a series of experiments using stuffed animals — some whose eyes will be manipulated to appear more cooperative and others less cooperative.
Because those with autism are socially and communicatively impaired, they might not show a preference for the stuffed animals with "cooperative" eyes," Goetz said. Such a finding "could be used to better design toys for children with autism."
Susan M. Larsen, assistant professor of human services, has a 10-year-old son who was diagnosed with autism when he was 18 months. She wrote her doctoral dissertation on autism and said the debate regarding how people become autistic "rages on among researchers and the medical profession."
Whatever the reason, many adults with severe autism live in group homes and Larsen volunteers her time working for organizations that serve them. She spends Saturdays visiting 14 adults, ages 20 to 67, who have autism. "They help me more than I help them," she said.