Industry Support Modernizes Campus Facilities
Alcoa Foundation Funds Will Lead to More Student Research
March 16, 2007
By Russ Hudson
An Alcoa Foundation grant will help Cal State Fullerton's College of Engineering and Computer Science achieve one of its goals: to involve more students in hands-on research.
The foundation has presented the college with more than $76,000 of a pledged $90,000 for use by the Department of Civil and Environmental Engineering.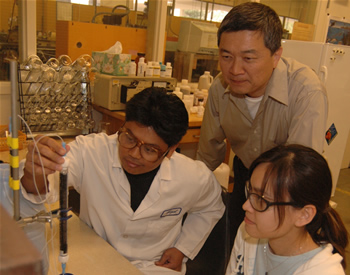 Professor Jeff Kuo oversees Vladimir Carino and Lindia Liu as they perform a process that removes pollutants from water using nanoparticles
"The funds will be used to upgrade several important environmental-engineering laboratory components," said Jeff Kuo, professor of civil and environmental engineering and one of the key faculty members involved in securing the Alcoa Foundation grant. "The upgraded laboratory will enhance instructional capabilities and provide the basis for increased student-faculty research projects, including those from industry."
Environmental engineering is focused on preventing or removing pollutants from air, soil and water, preserving ecologies, working with industry to prevent and/or minimize adverse impacts, and in other ways to apply engineering and scientific principles to protect human health and the environment.
Kuo worked in the environmental engineering industries for more than a decade before joining the faculty at Cal State Fullerton 12 years ago. He worked in such environmentally sensitive areas as the design and installation of: air strippers, activated carbon adsorbers (designed to reduce industrial emissions), catalytic incinerators (designed to incinerate harmful compounds with less heat and fuel than used in thermal incinerators), and biological systems for groundwater and soil remediation. He also conducted assessments of environmental toxins, landfills, Superfund sites (the most polluted sites in the nation targeted for cleanup), projects to keep pollutants out of the air and wastewater-treatment projects.
Kuo has published more than 80 technical papers in the field of environmental engineering, as well as a book on remediation of polluted groundwater and soil.