Army ROTC Marks 23 years on Campus
With Highest Number of Cadets
November 1, 2006
By Mimi Ko Cruz

Michael Kubota was in search of goals, ambition and commitment when he learned about and joined
Cal State Fullerton's Army Reserve Officers Training Corps (ROTC)
. While training to become a military officer, the 22-year-old history major, now is learning skills that spill over into his daily life.
The program "gives me more personal discipline," Kubota said. "Before I signed up for ROTC, I was just taking classes at community colleges aimlessly, with no direction. I used to let things go and not do them until the last minute, but I've learned time-management planning, how to manage my financial resources and to address problems right away. I don't mess around."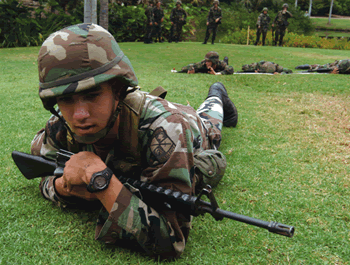 Cadet Michael Kubota

After joining the program last year, he said he has not received a grade lower than an A in any of his classes and he's learned to focus on what's important in his life.
That is an example of the side effects the ROTC offers, said Lt. Col. Billy Howard, the program's battalion commander, who has served 19 years in the Army, including two years at CSUF.
"Not only do the students learn leadership skills that they can use in military situations, they also pick up problem-solving abilities and a slew of noble and inspiring lessons that they can use to be successful in all their life endeavors," Howard said.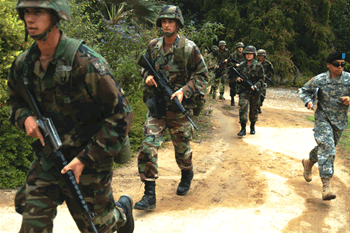 ROTC cadets participate in physical training exercises three days a week.

Perhaps that would explain the surge in the ROTC's popularity.
The program is marking its 23rd year on campus with its largest number of cadets — 92. Howard said he expects 17 will be commissioned in May. There were 25 cadets in 1983, 50 in 2000, 58 in 2004 and 68 last year. This year's cadets include 17 females — more than double from last year — and four sets of siblings.
In 2001, Cal State Fullerton became a host university for the ROTC. It was a satellite unit under Claremont McKenna College before then.
This spring, the program received a MacArthur Award, which honors the nation's top Army ROTC units. Cadets include students from other universities such as Vanguard, Chapman, UC Riverside and UC Irvine. Graduates of the program are commissioned as second lieutenants.
"I wouldn't be in the military if I didn't love this country," said Deneve Sam, a 22-year-old anthropology major. "It's very challenging. We show up for physical training at 6:30 three mornings a week, we take military science classes and we have a class where we learn everything from land navigation to battle drills, military tactics and how to become better leaders whether you're men or women."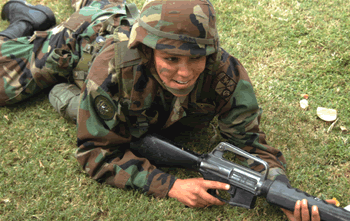 Cadet Deneve Sam

She demonstrated some of the skills she's learning on a recent Friday afternoon at the Fullerton Arboretum as she crawled on her belly, then on her back, — clenching her rifle close to her chest under rope meant to represent barbed wire — and took part in various group maneuvers.
"For me, becoming an Army officer is something I want to do from my heart because I truly believe in what America stands for," Sam said.
That's an attitude the university supports, said CSUF President Milton A. Gordon, who serves on the national ROTC Subcommittee of the Army Education Advisory Committee, providing expert advice on Army educational programs.
"I think our ROTC program adds a very, very important dimension to our entire education program," Gordon said. "The whole purpose of the program is to give students strong leadership training that is very important to our current and future Army."
The CSUF ROTC program's overall goal is to "commission high-quality, motivated and committed young scholars, athletes and leaders and turn them into competent, confident and agile officers who exemplify Warrior Ethos [the soldier's creed — always placing the mission first, never accepting defeat, never quitting and never leaving a fallen comrade]," Howard said. He aims to recruit at least 20 more cadets by 2008 and grant them full scholarships.
ROTC students who receive scholarships agree to complete four years of full-time service with the Army. However, some cadets may choose to serve part-time in the U.S. Army Reserve or Army National Guard while pursuing a civilian career.
Once students sign contracts with the Army, they receive monthly stipends of up to $500.
Brad Vaughn said he signed up for CSUF's ROTC because it is the best leadership program on the planet.
"The Army is paying my tuition," the 20-year-old cadet said. "So, I'm getting my education and I'll be an officer when I graduate. This is an awesome opportunity for me and anyone who wants to serve this country."
Military experience "provides cadets with opportunities to lead soldiers in difficult situations under enormous stress," Howard said. "That experience opens doors for future job opportunities or other personal desires."
Besides leadership training, the cadets provide color guard services for various events and celebrations countywide throughout the year. A "Ruck-a-thon," a walk around the campus, is being planned for spring in an effort to raise money for charitable organizations that fund cancer research and support for victims and their families.
For more information about the university's ROTC program,
visit the Web site
.