Linguist Travels to United Arab Emirates to Research for Book
Alan Kaye is studying the modern Arabic dialects of the United Arab Emirates, Qatar and Oman
December 19, 2006
By Pamela McLaren
When Alan S. Kaye, professor of English, comparative literature and linguistics, stepped off the plane four months ago in the United Arab Emirates, he could be excused for being a little dazed and confused — not only was he in a country very much different from Orange County, he had to deal with being in a country 12 hours ahead of California time.
Kaye, however, is an experienced world traveler — regularly visiting several countries in far-ranging regions of the world as part of his studies into language. Last year at this time, Kaye was in Columbia exploring the Spanish dialects used there, as well as the indigenous language Palenquero. In 2000, he spent seven months in Saudi Arabia where he conducted research on the Bedouin dialects and three years before that, he was in Saudi Arabia and Qatar as Joseph J. Malone Fellow, as part of a program sponsored by the National Council on U.S. Arab Relations. He's been a Fulbright Scholar in Egypt and in Sri Lanka and speaks Arabic, Persian, Urdu and Spanish, among other languages and dialects.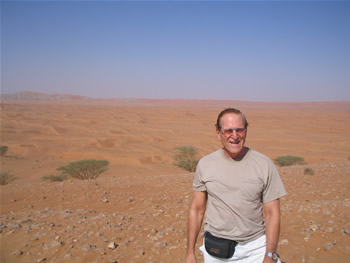 "As you can see, I am a real desert rat and love camels, nomads and the Bedouin way of life, which this part of the world has had for so many centuries," wrote Alan S. Kaye, professor of English, comparative literature and linguistics. Kaye is serving a two-year leave in the United Arab Emirates.
This time he is spending two years on leave from Cal State Fullerton, teaching "Contrastive Linguistics" — structures of Arabic and English and phonetics at United Arab Emirates University while delving into modern Arabic dialects of the United Arab Emirates, Qatar and Oman as research for a book.
"I've been in the United Arab Emirates for almost four months now," Kaye recently wrote. "Everything is going very well.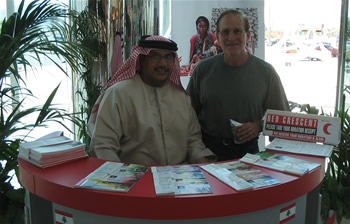 Alan S. Kaye, professor of English, comparative literature and linguistics, walks with an Emirati friend who is recruiting funds for the Red Crescent in the Marina Mall in the capital city of Abu Dhabi in the United Arab Emirates.
"The people of the United Arab Emirates, Oman and Qatar have been extremely helpful and friendly to me. The traditional hospitable Middle East is still here," he replied when asked about his reception in the region. "One should not get carried away with what the media often portrays."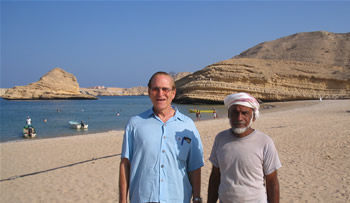 Omani fisherman with Kaye on the shores of the Gulf of Oman.
Kaye writes that he has been immersed into the culture, tradition, literature and history of the area. "As someone who is in love with the desert, I have spent much of my time in the sand dunes — called 'araagiib in Gulf Arabic — with camels. There is something very special in the vastness of it all, as Lawrence of Arabia noted a long time ago in 'The Seven Pillars of Wisdom.'"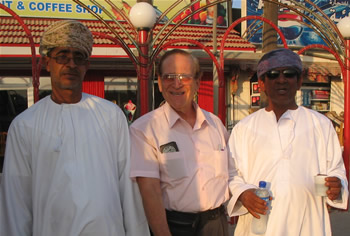 Cal State Fullerton linguistics professor Alan Kaye and two friends in Oman.
During his leave, the researcher has visited Abu Dhabi, the capital city of the United Arab Emirates, tagging along with a friend who was recruiting funds for the Red Crescent — similar to the Red Cross. He's also been to Qatar University and Doha, the site of the recent 15th Asian Games, and Muscat, the capital of the Sultante of Oman and the location of Sultan Qaboos University. Kaye presented a public lecture recently at that university for the Department of English.
"The UAE presently has the largest mall in the world and an even larger one is now under construction in Dubai. It also has the world's tallest hotel, the Burj Al-Arab, and the world's tallest building is being planned — 200 stories, according to one report I've read," Kaye said.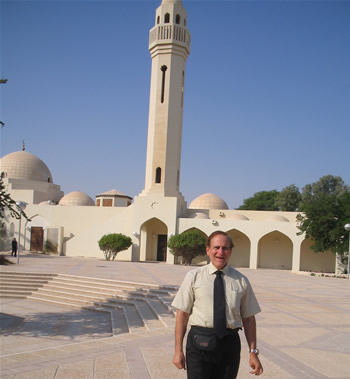 Kaye at the main mosque at Qatar University.
"Overall, I've found the Arabian Gulf countries to be filled with research opportunities for linguists," Kaye said. "I can't imagine how much all of these countries have changed over the past 50 years. The UAE only became a country in 1971.
Kaye is "delighted to be living this amazing adventure, since I am a Bedouin at heart — able to appreciate the magnificence of the Arabian sands and the awe-inspiring Hajar Mountains, while at the same time enjoy the beauty of the Arabic language in all of its tremendous dialectological diversity."