Out of Design and In View
Newest campus sculpture created by students
September 15, 2006
by Pam McLaren
In-Direction is one of the latest sculptures to grace Cal State Fullerton. Placed this summer, the artwork is the creation of Parker, a spring 2006 graduate with a B.F.A. in art, and fellow alum Jason Chakravarty, who completed his M.F.A. in art this year.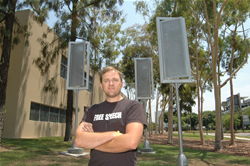 Sculpture Derek Parker, one of two alumni who created the new campus sculpture In-Direction, stands before the artwork located on the south side of the Visual Arts Center along Arts Drive. The piece, which glows from blue neon in the evening light, was created to represent the opportunities college can provide to students.

Photo by Patrick O'Donnell
The duo had worked with each other, helping on various projects, when they decided to collaborate on a sculpture. They consulted with Jerry Samuelson, dean of the College of the Arts, who was interested in the design, especially the integration of neon lighting. Parker and Chakravarty then pitched the project to the university's emeriti, who agreed to commission the work.

Sculpture "really enlivens the campus – makes it very vibrant," said Mike McGee, professor of art and art gallery director. "CSUF now has one of the largest university outdoor sculpture collections in Southern California."

"We were scarcely prepared [when we began the project]," says Parker, who begins studies for his M.F.A. at the University of Indiana, Bloomington, this fall. "We learned a whole lot along the way … taking on a project that large, the scope was the largest that we had ever worked on."

The sculpture took the pair six months to create, while attending classes and completing their studies. Built of fabricated aluminum with neon lighting in the door jams, the three doors stand on 7-foot tall posts. When the neon comes on, it gives a soft bluish-white glow to the work.

"Derek and I worked really well together. Every time we hit a snag, we would sit down and figure it out."

"We learned so much that you could only get hands on," said Parker.

"I had always heard that public projects were a big pain, but this was anything but," says Chakravarty, who currently works at the California Museum of Photography in Riverside and will lecture at Cal State Fullerton this fall. "I would do this again in a heartbeat."

In addition to In-Direction, Nautilus by Rico Eastman is on long-term loan to the university. The 8' x 12' x 8' artwork, created in steel sheets, is located on the east side of the southern most building in the Visual Arts Center. Two additional sculptures, Arise by Eric Goulder and Imploration by Stanislav Szukalski, will soon be installed with a dedication ceremony scheduled in October, said McGee.