Bringing Venus to Southern California
Actress-Lecturer Performs Shakespeare in the OC
Aug. 10, 2012
Fresh from her stint on stage in Prague earlier this summer, actress Evelyn Carol Case, a member of the Theatre and Dance Department faculty, is preparing to reprise her role as the leading lady in "Venus and Adonis," in performances tonight and Saturday with Shakespeare Orange County at the Festival Amphitheatre in Garden Grove.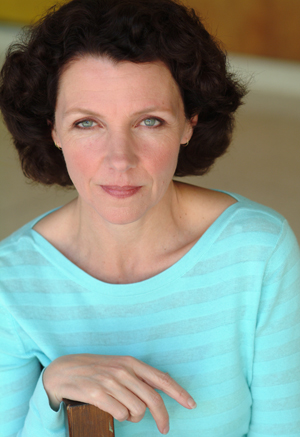 Caption: Evelyn Carol Case Download Photo
Beginning Aug. 16, she will take up the role of Beatrice in "Much Ado About Nothing," also for Shakespeare Orange County (SOC).
Case's stage credits include multiple productions of the Bard's plays: "King Lear," "Hamlet," "The Merry Wives of Windsor," "The Comedy of Errors," "Venus and Adonis" (Shakespeare Orange County), "Othello" (Laguna Playhouse), "Romeo and Juliet" "Macbeth," "A Midsummer Night's Dream," "Taming of the Shrew," "Henry I, Part One," "Twelfth Night" and "Hamlet" (Alabama Shakespeare Festival).
This is very much a Shakespearian summer for Case. Last month she portrayed Queen Elizabeth in SOC's "The Tragedy of Richard III," earning this rave from the Orange County Register's Eric Marchese: "Evelyn Carol Case's Queen Elizabeth, King Edward's widow, is so commanding as to nearly match Richard blow for blow."
At CSUF, she teaches "Acting" "Voice and Movement" and "Acting Shakespeare" classes and has coached students in more than 50 productions. She also has performed in four campus productions, most recently playing Edith Frank in the spring staging of "The Diary of Anne Frank."
Reached earlier this summer while she was in the Czech Republic, she noted that "being in Prague and Europe is even more interesting having just done so much research for that play."
Between performances, she answered questions by email about her experiences there and the role of Venus in one of Shakespeare's seldom-produced works.
Q: What attracted you to this role?
The opportunity to create a dramatic piece out of an epic poem was very enticing, and I love working with our ensemble. Venus is a strong-willed and complex character who presents many challenges on many levels.
Q: You've done so much Shakespeare, have you acted in all of his works?
No, not at all. I have performed in only about 15 of Shakespeare's plays. Most companies tend to produce the most popular ones, such as "A Midsummer Night's Dream" over and over. So, I've performed in more than 15 productions and have repeated roles/plays several times.
Q: What's it like to be a part of the Fringe Festival?
It's very exciting to be a part of The Fringe and to be partnering with Prague Shakespeare. It's been a very high energy few days. ... The first night here in Prague, we saw three shows and attended an event that previewed all of the Fringe productions. We've seen a play (spoken in Greek) about Kafka's last days in Berlin, an actress from Singapore in a dance-based piece, and a mime from Japan present a Russian play without words. There is truly something for everyone here.
Q: How is this theatrical experience different?
This experience has been very different from the beginning. We literally created the script (dialogue and action) out of a poem. We rehearsed only once a week. We had only a couple of hours in the theater space before we performed for the first time. It's been an experience of unknowns and leaps of faith. It's been an experience of being able to let go of my plans and trusting myself.
Q: Any surprises about being there?
It's not really a surprise, but I'm so thrilled at being a part of this festival. All of the international artists are so supportive and receptive. Artistic Director Guy Roberts and all of the folks from Prague Shakespeare are excellent hosts and have really made our transition into the festival very smooth.
Q: What do you do when you're not rehearsing/performing?
We've done a good bit of touring here in Prague. We met up with a CSUF alum, Eric Czuleger, who came in from Albania to see our show, and we toured the Kafka Museum. ... We plan to tour out into the countryside to see a church known as the Bone Church, which is made from the skeletons of plague victims.
"Venus and Adonis" is staged at 8:15 p.m. Aug. 10-11. "Much Ado About Nothing" is staged Aug. 16- Sept. 1. Both are directed by Thomas F. Bradac, and tickets for both productions are available online.