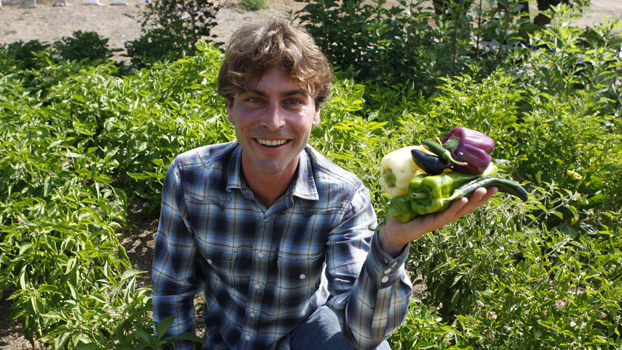 Caption: Jonathan Duffy Davis kneels among the wide variety of pepper plants that are being grown on the Fullerton's Arboretum's working farm. Situated on 16,000 square feet of previously unused land, Davis has planted more than 300 varieties of fruits and vegetables, grains and herbs. Photo: Karen Tapia Download
Urban Farming
Botanical Garden Reaches Out to Home Growers
June 19, 2012
Visitors to the Fullerton Arboretum may be surprised to learn that in addition to the pond and wooded areas, the rose gardens and the carefully tended collection of cacti and succulents, the grounds also contain a working farm, complete with rows of vegetables, beehives and an orchard of more than 200 recently planted stone fruit trees.
The farm is the office of Jonathan Duffy Davis, a biologist at the Arboretum, who assumed responsibility for the care and cultivation of the farm and nearby orchard in 2008 following the completion of his master's degree in biology at CSUF.
Over the last four years, in a previously unused section of 16,000 feet, Davis planted more than 300 varieties of vegetables, fruits, grains and herbs with a yield of more than 12,000 pounds to date. The harvest is sold the first and third Saturdays at the Arboretum's farmer's market stand.
"My goal is to educate and inspire a local-food revolution," he said. "People are becoming more aware of the health benefits of locally grown foods and discovering that there are far more varieties of fruits and vegetables than they could ever find in even the most well-stocked supermarkets. The ultimate benefit, of course, is that locally-grown food almost always tastes better, too."
In recent years, as homeowners have expressed an interest in starting their own home-based vegetable gardens, Davis has been offering classes in urban farming and related topics to the general public.
"We talk about composting, how to improve your soil, how to prepare beds, how to deal with weeds and pests, how to irrigate and how to design a garden," he said.
"Because we live in Southern California, our planting cycles are a bit different," he explained. "Because of the heat, we can grow some vegetables all year. In my classes and on the farm, I try to select varieties that are suitable for the season and the climate.
"See these flowering parsnips?" asks Davis. "Ladybugs love parsnips. I plant these at the end of my tomato rows to take care of the aphids." Ladybugs, of course, eat aphids — those hungry little pests that can wipe out an entire crop in a few days.
Davis suggests looking beyond the neat rows of vegetables. "I sometimes like to mix up the plants," he says. "There are a few reasons for that. For instance, some plants, like parsnips, carrots and buckwheat, attract beneficial insects, such as bees and ladybugs. Also, different bugs prefer different vegetables — if you plant row after row of the same plants, you make it easier for bugs who enjoy that particular plant to come in and become a nuisance.
"The other reason I like to mix them up a bit is that while some plants take nutrients out of the soil, other plants can put it in. That said, your garden may not look as neat as rows but your yield will often be better. Basically, we're attempting to mimic nature's diversity to create a garden that cares for itself."
Companion planting, where you add plants that complement each other by providing needed nutrients or deterring pests, is another old farming trick.
Pests are one of the biggest sources of frustration among gardeners.
"Understand that everything is eaten by something else. Since nature always wins, cooperation is advised," he said with a smile. Insects to invite into your garden include bees, ladybugs, praying mantis, hoverfly and lacewing. Among those to send packing are aphids, tomato hornworms, cucumber beetles and bagrada bugs.
Even if you can't see the bugs, they leave telltale signs of their presence, said Davis. Holes, curling leaves, burns, wilting, stunted growth or an unhealthy appearance and ant activity are just a few signs that unwanted pests are helping themselves in your lettuce patch.
"I use diversity instead of pesticides to manage pests because each challenger has beneficial relatives," Davis said. "With insects you have the good guys and the bad guys. With fungi, you have powdery mildew — bad — and mycorrrhizae —good. With bacteria, there are pathogenic types —bad — and nitrogen fixers — good. Pesticides, organic or otherwise, can affect the good along with the bad."
Paying attention to the seasons and planting what has the best chance of thriving is equally important. But what's most important to Davis is that people just get plants in the ground.
"There are some great books out there but I find that most folks learn best by simply experimenting. Classes can help gardeners make good decisions for their areas but once they actually start planting, that's when they really learn."