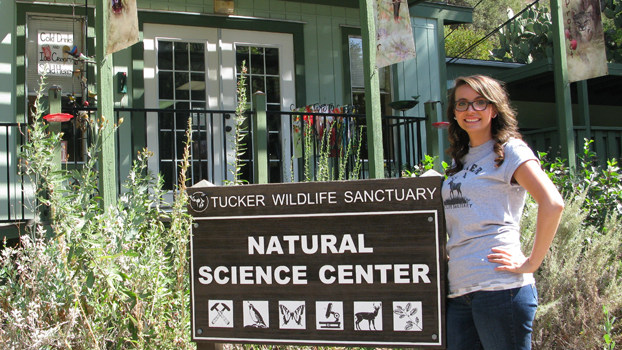 Caption: Senior English major Lauren Bailey has spent the summer working on a teacher's handbook for kindergarten through seventh grade classes that visit Cal State Fullerton's Tucker Wildlife Sanctuary.
Wildlife Preservation and Public Education
Intern Creates Teacher's Guide to Science Education in the Field
Aug. 14, 2012
Following her passion for education, Cal State Fullerton student Lauren Bailey has spent the summer producing a teacher's handbook for the elementary and middle school classes that visit Tucker Wildlife Sanctuary every year to learn about the environment and the region's natural habitat. The sanctuary is owned by CSUF and operated by the College of Natural Science and Mathematics.
Nearly 7,000 students and community members tour the Modjeska Canyon nature preserve annually, according to Marcella Gilchrist, site manager. 
"The new teacher's handbook will help school teachers strengthen the impact of the sanctuary's education program on their students," Gilchrist said.
Bailey, an English major preparing for a career in academia, became involved at Tucker last spring through the Volunteer & Service Center's Project Earth, which focuses on activities that improve and restore the environment. This summer, in addition to the handbook, she is assisting the Outdoor Education Program's writing projects and finalizing a Native American Program teacher's guide.
Why produce the teacher's handbook?
The handbook presents classroom materials that connect the sanctuary's science education tours to California's grade level standards for science education, and includes pre- and post-trip activities for students, vocabulary and information specific to the plant and animal life in the canyon.
What will the Native American Program guide include?
The program and guide are built upon the widely used classroom book "Island of the Blue Dolphins" by Scott O'Dell, in which students learn about Native American culture and history. The program is fun and interactive and directly corresponds to the chapters and lessons in the book. Both the teacher's handbook and the Native American program guide aim to further children's understanding of the value of these natural resources and the part they play in our lives and our history.
How has this experience enhanced your CSUF education?
As a future educator, I can definitely appreciate the experience I had in developing a curriculum, especially one that teaches children the importance of science and nature, and preserving our natural resources. My experiences overall at CSUF have been amazing. I've been fortunate to be able to surround myself with extraordinary people. I owe much gratitude to all those who've helped me — from professors to classmates.
Any mentors who've inspired you?
I've been fortunate to have two mentors who've truly inspired and enabled me to move forward with my ambitions. As my academic sponsor for the Pre-Doctoral Program, Dr. Lana Dalley, assistant professor and acting chair of English, comparative literature and linguistics, has dedicated countless hours and effort to helping me develop my academic skills. Amy Mattern, coordinator of the Volunteer & Service Center (VSC), has taught me invaluable leadership skills. I also have a deep respect for Marcella and the rest of the sanctuary staff whose creative stewardship has helped this unique Cal State Fullerton program focusing on wildlife preservation and public education. 
For more about internship opportunities, visit the sanctuary website or contact Marcella Gilchrist, 714-649-2760.