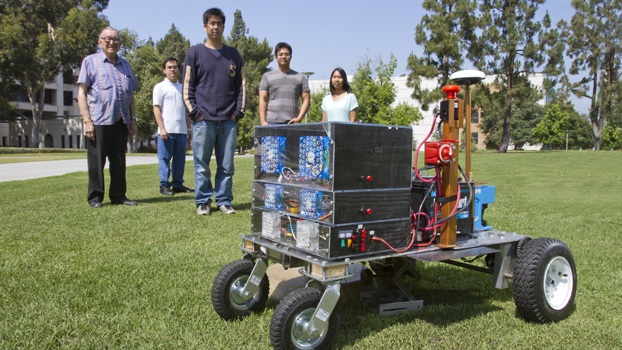 Caption: Engineering students recently won first place in the "static competition" with the "Titan Rover" at the ninth annual Institute of Navigation Robotic Lawn Mower Competition. Pictured, from left, are team consultant Martin La Rocque, and team members Bao Nguyen, Michael Yeh, Minh Tran and Vy Phung. Photo: Matt Gush Download Photo
Lawn Mower Champs
Engineering Students Create Winning Grass-Cutting 'Titan' Robot
June 21, 2012
The goal for a team of engineering students: design and operate an autonomous lawn mower — using the art and science of navigation — to rapidly and accurately mow a field of grass.
The students accomplished their objective: building the "Titan Rover" robot, that in design and technology proved to be a cut above the rest.
The seven-member team won first place in the "static competition" at this month's ninth annual Institute of Navigation Robotic Lawn Mower Competition near Dayton, Ohio. In the static category, the robotic competitors, while mowing a field of grass, had to avoid stationary obstacles.
"I am very proud that our team was able to win the first place. Our students worked day and night on the project. I am especially proud that we outperformed other universities with strong engineering programs like Syracuse, Michigan and Florida," said Jidong Huang, assistant professor of electrical engineering and the team's faculty adviser. "We were the only team in this category that cut almost 95 percent of the field and successfully avoided the static obstacles."
The students also garnered other recognition: the "Fantastic" award for putting the most fans on the robot to "cool" it, the "Overclocked" award for efficiently using computing technologies and the "Zero-Degree Turn" award for perfect, zero degree turns made on the field by the lawn mower.
Winning Team
For the last three years, different teams of engineering students have participated in building an autonomous lawn mower for the competition, with this being the winning year for a Cal State Fullerton team. CSUF students started building robotic lawn mowers six years ago as senior design projects under the guidance of Mohinder S. Grewal, professor of electrical engineering.
This year's team built on the experiences and lessons learned from the previous engineering students who participated in the national competition, Huang explained.
"We completely redesigned the lawn mower with the help of mechanical engineering students," he said. The team also received external sponsorship from NavCom Technology Inc., a John-Deere Co. that donated and loaned various equipment, Huang added.
This year's team used a newer generation of navigational software and made other major modifications to create the winning, unmanned machine, said team leader Michael Yeh, who earned a bachelor's degree in electrical engineering in 2011.
Now an electrical engineering master's student, the Fullerton resident said he and his teammates all had varying roles from welding to designing the chassis, creating navigational software and securing donated parts.
Team members included
Bao Nguyen of Fullerton, a graduate electrical engineering student
Tuo Wu, an electrical engineering student from Southeast University in China who was in the University Extended Education Semester Abroad Program
Riyad El-laithy of Fullerton, May master of science electrical engineering graduate
Minh Tran of Anaheim, junior mechanical engineering major
Vy Phung of Fullerton, junior electrical engineering major
Jian-Zhi Chen of Rosemead, an international graduate student in mechanical engineering
Martin La Rocque, 83, a retired electrical engineer from La Habra, helped the team as an Institute of Navigation consultant.