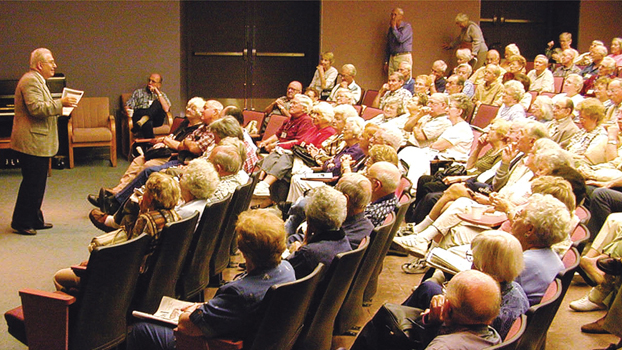 Caption: George Giacumakis, emeritus professor of history, gives a lecture on the history of the Byzantine Empire to members of the Osher Lifelong Learning Institute. 
Million-Dollar Boost
Osher Lifelong Learning Institute at CSUF Awarded New Endowment Gift
July 6, 2012 :: No. 4
To further its support of learning in retirement, The Bernard Osher Foundation has awarded a $1 million endowment gift to Cal Sate Fullerton to support its Osher Lifelong Learning Institute.
It's the second such million-dollar gift to CSUF from the foundation. The first, in 2008, created an endowment to benefit the Osher Lifelong Learning Institute (OLLI), a self-governing non-credit educational program for retired and semiretired individuals. OLLI's program of continuing education relies heavily on members sharing their own training, skills and interests, and has become a model for programs geared to serve the intellectual pursuits of older adults.
"We appreciate the generous support of The Bernard Osher Foundation to enhance peer teaching and learning for the elders of our society," said Mildred García, president of Cal State Fullerton. "The vitality of our Osher Lifelong Learning Institute is well-known, and this gift helps to ensure its future."
OLLI's growth in the past three years — a 61percent boost in the number of members and 58 percent increase in the number of courses offered — was cited as "exceptional" by Osher Foundation President Mary G. F. Bitterman.
"We salute the university's leadership and staff, as well as the institute's remarkable cadre of volunteers for developing an outstanding program of great variety," said Bitterman. "From personal enrichment courses on philosophy, history, literature and the performing arts to practical offerings on healthy living and using computers, the Osher Institute at CSUF consistently provides a rich array of learning activities for seasoned adults in the Fullerton area."
"The annual earnings from this latest endowment gift will help sustain overall operations and fund new instructional programs, equipment and renovation," said OLLI president Chuck Ritz, a Fullerton resident and retired mechanical engineering professor at Cal Poly Pomona.
"This grant puts our organization on a sustainable path for the long haul and will enable us to expand programs and serve even more members," Ritz said, noting that plans call for widening fundraising efforts for OLLI. "This strong support from the Osher Foundation will make approaching other foundations, corporations and individuals more effective."
The Osher Foundation's gifts to CSUF now total more than $2.4 million. 
Founded in 1979 as the self-supporting Continuing Learning Experience with 27 charter members, OLLI has grown over the decades to a membership of 1,400 and adopted its current name in 2006 to join the nationwide network of Osher Institutes.
OLLI provides members with multiple avenues for their pursuit of lifelong learning. Programs consist of study groups, educational lectures, physical and social activities and special events, as well as travel opportunities developed and facilitated by members. Some of the lecture series offered each fall, spring and summer are open to the public and feature faculty members from CSUF and neighboring universities, as well as physicians, judges and other civic leaders.
In addition, OLLI members are active in the life of the university, volunteering their time to enhance academic and athletics programs and participating as members of support groups affiliated with all facets of the university, from athletics and the arts, to the Fullerton Arboretum and Pollak Library.
OLLI members also participate in research programs undertaken by the faculty, including studies about enhancing mobility, vitality and independence in one's later years, which led to the creation of the university's Lifespan Wellness Clinic. OLLI also engages with the campus as a sponsor, awarding two scholarships each year — one to a graduating older adult and one to a student majoring in gerontology. Most recently, OLLI was one of the sponsors of the "New Opportunities in Aging" North Orange County Senior Summit held June 9 in the university's Ruby Gerontology Center.
The Charles and Rachel E. Ruby Gerontology Center, which houses the Institute of Gerontology and OLLI, was the result of a successful fundraising campaign spearheaded by the group. The center opened in 1988 and is the only building on campus financed entirely with non-state funds. A comprehensive, regional university with a global outlook, Cal State Fullerton enrolls more than 36,000 students and offers 105 degree programs in eight colleges. Accredited by the Western Association of Schools and Colleges, Cal State Fullerton is eighth in the nation for the number of bachelor's degrees awarded to minority students and first in California for the number of bachelor's degrees awarded to Hispanics.
The Bernard Osher Foundation, established in 1977 by San Francisco businessman and community leader Bernard Osher, seeks to improve the quality of life through support for higher education and the arts. Among the foundation's grantees are an array of performing arts organizations, museums and educational programs in Northern California and in the state of Maine. It also provides postsecondary scholarship funding to colleges and universities across the nation and benefits programs in integrative medicine at the University of California, San Francisco; Harvard Medical School and Brigham and Women's Hospital in Boston; and the Karolinska Institute in Stockholm. The foundation supports a national network of Osher Lifelong Learning institutes that operate on the campuses of 116 institutions of higher education from Maine to Hawaii and Alaska.
Media Contact:
Paula Selleck, 657-278-4856