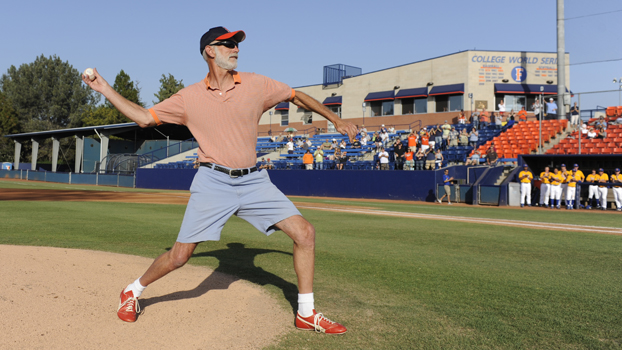 Caption: Mel Franks throwing the ceremonial first pitch before the final home game of the regular baseball season May 20 vs. UC Riverside. Photo by Matt BrownMel Franks throwing the ceremonial first pitch before the final home game of the regular baseball season May 20 vs. UC Riverside. Photo by Matt BrownMel Franks throwing the ceremonial first pitch before the final home game of the regular baseball season this year. Photos: Matt Brown Download Photo
Titans Owe Thanks to Mel Franks
Campus Sports Information Director Retires After 32 Years
August 9, 2012
Mel Franks recalls the story like it was yesterday.
He was in public relations for the then-California Angels and he was waiting for the phone call.
It came in early August 1980 and marked the beginning of his three-decades-long career as Cal State Fullerton's senior associate athletics director/sports information director.
"Mel Franks, you got the job," the voice on the other end of the phone said. Now, the bad news: "You have a home football game in three weeks and you have no press box."
Franks did what came naturally. He used a little elbow grease and imagination to erect a makeshift "press box," complete with tables, chairs, telephone lines and hot-off-the-press media guides that he wrote himself so reporters could file their reports on the university's then-NCAA Div. 1 football team.
And so began a "no-frills, no-complaints" relationship between Franks and appreciative newspaper, TV and radio sports reporters.
Franks, who is retiring in December, knew that he served the Titan fan base, so he made sure the university community was well-informed about its championship teams, standout athletes and dozens of eventual professional athletes. His full-time gig ended on July 1, but he's working two days a week through the fall semester.
Reporters tell about how they have always been able to count on Franks to deliver myriad information on scores of sports and how they will miss him when he retires.
"I've never known or worked with a better SID," said Chris Foster, a longtime Los Angeles Times sports writer. "Mel's the best, and the writers who won't get a chance to deal with him in the future will be missing out."
Orange County Register sports columnist Mark Whicker recently gushed about Franks' frankness about the football team.
"On a lovely Saturday in 1988, Cal State Fullerton lost to Pacific, and the writers were dreading the task of reconstructing all the stubbed-toe moments," Whicker wrote. "Fortunately, Mel Franks was around. Franks presented Coach Gene Murphy and the media with an impromptu 'Titan Self-Destruction Chart' that listed three interceptions, three lost fumbles, 16 penalties for 122 yards, all the dropped passes, and the process of turning 494 yards into 14 points. This was the CSF sports information director, doing this. It would be like White House press secretary Jay Carney reminding the press to look into Solyndra."
Standout Athlete, Team Player
Franks, who was the 1966 Athlete of the Year at Kennedy High School where he played football and basketball, spent the 1966-67 academic year as a freshman at Cal State Fullerton. He played basketball for the university and had planned to play football, but CSUF delayed launching the program for two years. So, he transferred to Cypress College, where he played football and basketball during his sophomore year, then transferred to Arizona State, where he earned his bachelor's degree in journalism in 1970.
He worked as a sports reporter for the Daily News Tribune in Fullerton in the early 1970s, covering the then-California Angels baseball team, as well as high school and college sports.
The recipient of writing awards from the College Sports Information Directors of America and a "Good Guy Award" from the Orange County Sports Hall of Fame repeatedly acknowledges a long list of colleagues, past and present, in the university's Athletics Department and says they're "like family."
His extended family includes Julie Max, head Titan athletic trainer and kinesiology lecturer, who has worked with Franks since he arrived on campus and calls him "the guy you can rely on to be honest and supportive and gentle."
"Everybody loves this guy," Max added.
A Sports Family
Franks' family includes his wife, Nancy, and children Jason and Traci, who grew up attending nearly all the home basketball, baseball and soccer games. Because they lived across the street from campus from 1984 through 2001, it was an easy trek, Franks said. His home became a familiar place to coaches, players, trainers and reporters, who could be found there often.
The family became such big Titan sports fans that his wife and son missed their college graduation ceremonies out of loyalty to Titan baseball.
"It was the 1999 NCAA baseball regional at Notre Dame," Franks recalled. "Nancy and Jason skipped their commencement exercises at the University of La Verne and CSUF, respectively, to be in South Bend. Traci was there, too. She graduated from Cal Lutheran a week earlier."
Nancy Franks retired earlier this year as director of the Pediatric Cancer Research Center in Irvine. Jason Franks works for sports agent Scott Boras and Traci Allen is an academic adviser for athletes at Moorpark College.
Baseball Memories
Mel Franks, who grew up idolizing Cubs' shortstop Ernie Banks, counts watching the Titans win three of their four College World Series titles as some of his most memorable moments.
"Each title was remarkable for different reasons," he said. "In '84, it was such a surprise and over such big-name schools — Michigan, Oklahoma State, Miami, Arizona State and Texas. In '95, maybe the best college team ever beat USC. And, 2004 was such a comeback from a slow start to the season and, then, to beat Texas again. Remarkable."
For the last 32 years, Franks was there for all the big wins, big losses and everything in between, start-to-finish. "I never got too high with wins or low with losses, believing that if you give your best effort, you are successful regardless of the score," he said.