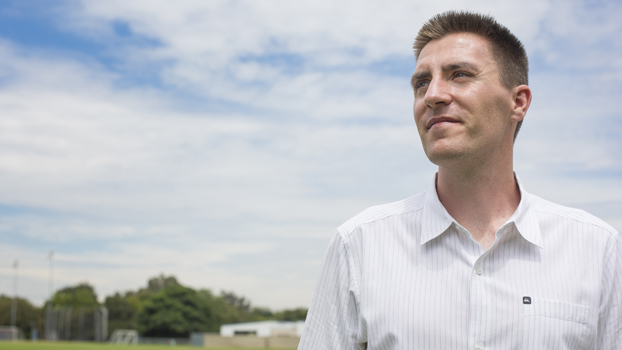 Caption: Matthew P. Llewellyn is an expert on London Olympic Games. Photo: Matt Gush Download Photo
London Calling
Kinesiologist Researches Olympic Games
As athletes from around the world prepare to compete in London at the upcoming Olympic Games, Matthew P. Llewellyn will be observing this summer's global sporting event as part of his ongoing research in the history of the premiere international athletic competition.
London has hosted the summer Olympic Games twice before, in 1908 and in 1948, and in his latest book, "Rule Britannia: Nationalism, Identity and the Modern Olympic Games" (Routledge, 2012), the assistant professor of kinesiology traces England's Olympic heritage. Following the elaborate and financially exorbitant 2008 Beijing Games, Llewellyn said, the British aim to spend only half of what the Chinese spent (more than $40 billion) four years ago.
"The Olympics promise to open new vistas in Britain's 21st century sporting landscape," he writes in the book's epilogue, "leaving behind an enduring legacy of urban regeneration and mass youth participation."
Because the eligibility rules that once prohibited any participation by professional athletes have been eased, Llewellyn notes, "it is easy to forget that the Olympic Games were once a strictly amateur event, open to only those athletes who did not derive any financial profit from their sporting talents." He and John Gleaves, assistant professor of kinesiology, are working on an upcoming book titled, "The Rise and Fall of Olympic Amateurism."
Llewellyn joined Cal State Fullerton's faculty in 2010. His degrees in kinesiology include a Ph.D. from Penn State, an MA from Cal State Long Beach and a bachelor's degree from the University of Wales Institute, Cardiff.
July 18, 2012