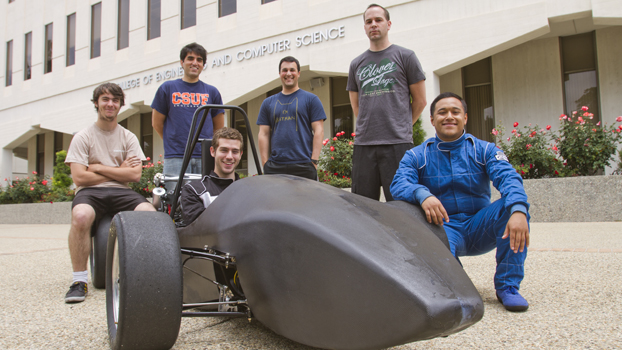 Caption: Engineering students prepare their car for a design competition June 20 in Lincoln, Neb.: (left) Michael Crull, Ben Lahiji, Kalen Eidenschink, Kurosh Jozavi, James McCollum and Danny Rivera. Photo: Matt Gush Download
Formula SAE Racing Team
Mechanical Engineering Students Rev Up for Competition
June 20, 2012; Competition results added to sidebar on June 28, 2012
Ben Lahiji and his fellow mechanical engineering teammates spent many long hours last week putting the finishing touches on their formula-style race car. And now they're revved up to compete in the Formula SAE June 20-23 at Lincoln Airpark in Lincoln, Neb.
The Cal State Fullerton team left campus Monday with their race car in tow for the 30-hour, 1,400- mile road trip to the Midwest.
Since last fall, the student team conceived, designed and fabricated the scaled-down, formula-style race car for their senior design and Society of Automotive Engineers chapter project. Making up the team are 17 mechanical engineering students who graduated in May; six mechanical engineering undergraduates; and five business administration majors who will present the business plan for the race car as part of the competition. Team adviser is Jonathon Woodland, the machine shop equipment technician in the College of Engineering and Computer Science.
"Our hope is to do better than last year's CSUF team," said team leader and spring graduate Lahiji. At the 2011 competition, the Titans placed 16th out of 86 teams.
This year's competition, organized by SAE International (formerly Society of Automotive Engineers), will attract more than 80 teams from universities worldwide.
The concept behind Formula SAE is that a fictional manufacturing company has contracted a design team to develop a smaller-scale, formula-style race car, said Lahiji of Irvine, who served as 2011-12 president of the student chapter of the American Society of Mechanical Engineers.
"Our prototype race car will be evaluated for its potential as a production item. The target marketing group for the race car is the nonprofessional weekend autocross racer," Lahiji explained. "Not only are the students required to implement all their engineering knowledge gained throughout their college career to design, build and test the vehicle — which is going to be tested through vigorous dynamic events at the competition — they are to implement numerous other critical skills, such as management."
For the 2012 competition, the team's objective is to build upon last year's success, reducing the car's weight while increasing its reliability and performance, Lahiji said.
The race car, named Titan V, can reach speeds up to 100 mph. It will be tested in several categories, ranging from technical inspection and design presentation to engineering design and performance, including endurance, acceleration and turning capabilities. The team has four drivers who will compete in the driving events.
Junior mechanical engineering major Kalen Eidenschink of Fullerton and spring graduate Lawrence Wong of Hacienda Heights, are excited and optimistic to get behind the wheel.
"We just have to stay calm and focused, and not worry too much," said Wong, who will drive in the endurance race of 22 laps, or 11 miles.
Eidenschink, who will test how the car handles turns, is confident about the team. "We just hope everything goes smoothly."
Readying for the competition gave students the opportunity to use engineering and fabrication applications, and learn what it takes to raise financing for the project. The car, which cost more than $20,000 to build, was made possible through corporate donations and team fundraising efforts, Lahiji said.
"The project has helped students gain hands-on experience working in a team environment," he added. "That can be valuable in securing internships and jobs, since most employers like seeing FSAE involvement from mechanical engineering students."
More about the CSUF formula team is available online.