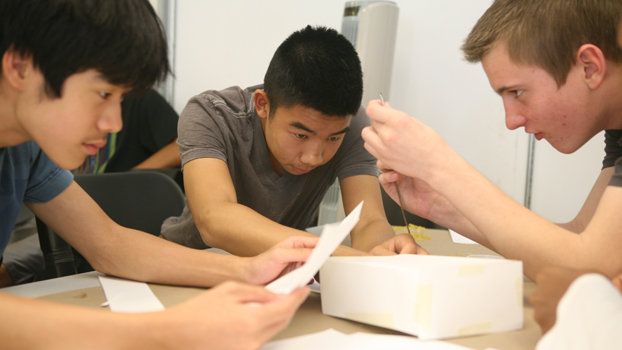 Caption: High school students Issac Ngo (left), Brent Tom and Kevin Scanlan at work building a better mousetrap as part of the Engineering Innovation program, under way this year from July 2-27. Photo: Greg Andersen Download Photo
Building Foundations for Future Careers
High School Students Get Innovative About Engineering
June 27, 2012 :: No. 207
What:            
Cal State Fullerton's College of Engineering and Computer Science is offering Engineering Innovation, a four-week summer program for high school students interested in learning more about becoming engineers.
When:           
July 2-July 27
9 a.m.-3 p.m. Monday through Friday
Where:          
Computer Science Building, Room 402
Cal State Fullerton, 800 N. State College Blvd., Fullerton, 92831
More:            
Two dozen students from high schools across the region and state, as well as one from Korea, will participate in the program. Their days will be spent putting engineering concepts to the test, using their knowledge of math and science, and applying concepts to hands-on projects and real-world practice. They will attend college-level lectures, tackle engineering problems and test theories — all with the aim of learning how to think like engineers. University faculty members and a local high school teacher will guide them. In addition, students can receive transferable college credits for earning a grade of B or better in the program.
Photo Opp:   
Friday, July 27, on the last day of the program, students will put what they've learned to the test by building spaghetti bridges they will design and build using only spaghetti and glue. The object is to build a bridge that can carry the heaviest load, while meeting engineering specifications. Weights will be added to the bridges until they fail. The competition will be held from 11 a.m.-1 p.m. in Room 199 of the Kinesiology and Health Science Building.
Background:
Engineering Innovation is made possible through a partnership between Cal State Fullerton and Johns Hopkins University. The program is part of the university's effort to introduce students to the possibilities of education, as well as careers in science, technology, engineering and mathematics, also known as the STEM fields.
Who:              
Binod Tiwari, assistant professor of civil and environmental engineering, and program teaching fellow Chris Peoples, an advanced-placement physics teacher at Fullerton's Sunny Hills High School, are team teaching the course.
Student participants, listed by city of residence and school, at right.
More Info:           
http://engineering-innovation.jhu.edu
Media Contacts:
Binod Tiwari, Civil and Environmental Engineering, 657-278-3968
Victor H. Delgado, College of Engineering and Computer Science, 657-278-2887
Debra Cano Ramos, 657-278-4027