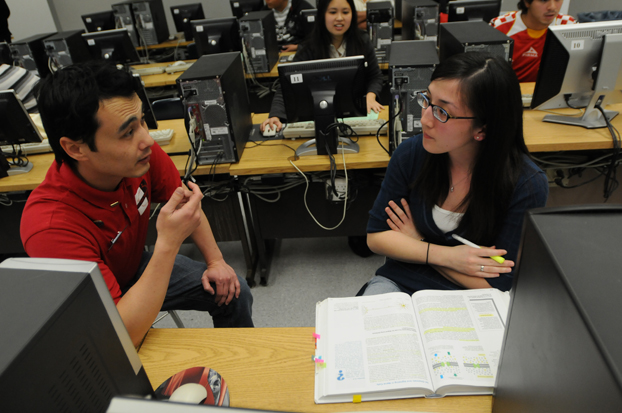 Caption: Business administration-accounting major Anthony Kress works with client Madoka Kitahara on preparing a tax return during a previous year's effort. The Volunteer Income Tax Assistance program helps low-income clients with their tax return preparation and filing.  Photo: Kelly Lacefield Download Photo
Serving Low-Income Families and Individuals
Business Students Offer Tax Assistance to Gain Experience, Help Others
Feb. 8, 2012 :: No. 85
What:           
Cal State Fullerton students are offering income tax return preparation and filing assistance to low-income families and individuals. More than 100 students and alumni — all certified — take part in Volunteer Income Tax Assistance, an IRS-sponsored community program.
When:            
Feb. 15-April 7
Where:            
Cal State Fullerton, 800 N. State College Blvd., Fullerton, 92831
4 -8 p.m. Wednesdays and Thursdays in McCarthy Hall, Room 565, Feb. 15-April 5
10 a.m. – 2 p.m. Saturdays in Langsdorf Hall, Room 403A, Feb. 18-April 7
Cal State Fullerton – Irvine Campus, 3 Banting, Irvine, 92618
5-8 p.m. Mondays and 6-9 p.m. Wednesdays, Feb. 27-March 21
Whitten Community Center, 900 S. Melrose, Placentia, 92870
10 a.m.-2 p.m., Saturdays, Feb. 18 and 25, March 17 and 24
Who:            
VITA is a student-run organization under the guidance of Kathleen K. Wright, professor of accounting, certified public accountant and attorney. Student leaders for each location are: Eliseo Cabrera, CSUF main campus; Katie Buehler and Elisabeth Garcia, CSUF Irvine Campus; and Diane Kay Randall, Whitten Community Center.
Clients:            
For those seeking services, annual incomes can be no greater than $40,000 for single filers, $45,000 for a family of three, or $50,000 for a family of four or more.
Applicants must bring:
• valid photo I.D. and Social Security cards, birth dates for taxpayer, spouse, and dependents
• wage and earnings statements and financial statements applicable to a personal tax return
• records of any payments to daycare and provider's I.D. number
• last year's income tax returns, plus bank routing and account numbers for direct deposit
Additional:            
Assistance is provided on a first-come, first-served basis, and clients can arrive at VITA sites no later than one hour before closing time. The Whitten Community Center makes its own appointments. For appointments at that location, call 714-986-2333.
University Parking:            
Courtesy parking passes are available for VITA clients arriving from off campus and are available in person at the VITA site offices.
Info:            
Volunteer Income Tax Assistance Center at 657-278-8681 or by e-mail: csufvita@gmail.com
Media Contacts:            
Kathleen K. Wright, Accounting, 657-278-7029 or kwright@fullerton.edu
Pamela McLaren, Media Relations, 657-278-4852 or pmclaren@fullerton.edu