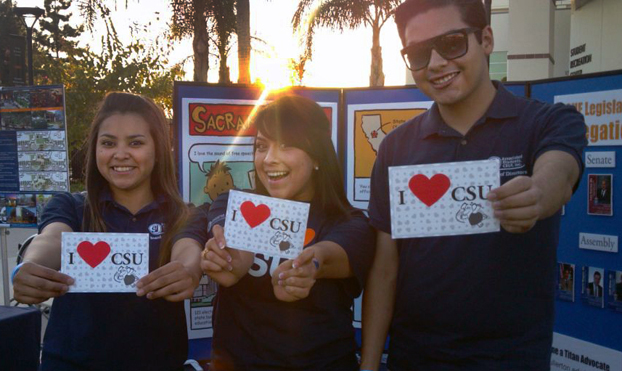 Caption: Student leaders, from left: Yvette Loaeza, Aissa R. Canchola and Daniel Zamilpa hold valentine postcards that are being delivered to Gov. Jerry Brown. Photo by Heather Morales
Tweeting for CSU Support
Cal State Fullerton Launches Valentine's Day Campaign
Feb. 10, 2012
For the love of public higher education, Cal State Fullerton is launching a California State University systemwide Valentine's Day social media campaign.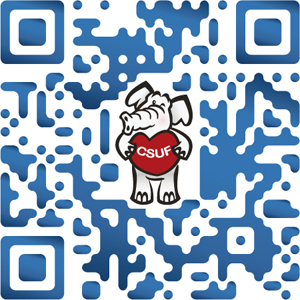 Caption: Valentine's Day Code Blue: This is Titan Advocates' QR (quick response) code. It can be read by cell phones and explains the Twitter campaign.
"The CSU is the heart of California, but it's hurting as it has taken severe budget cuts each year for the past decade," said Frances Teves, director of state relations and advocacy for CSUF. "We need to stop the bleeding and let our legislators and governor know that we need them to reinvest in higher education. So, we're going to target them with Twitter messages all day on Feb. 14."
The Twitter campaign, she said, will begin at 6 a.m. when Titan Advocates, a growing group of Cal State Fullerton supporters, posts its first message, which will include the hashtag (a key word marker that allows users to find certain topics easily) #SupportTheCSU. Supporters are being encouraged to follow Titan Advocates on Twitter and to re-tweet the messages.
Campuses throughout the CSU and the California State Student Association will be re-tweeting the messages all day.
"Our hope is that we will see the hashtag trending and that our message will have a ripple effect across multiple accounts," Teves said. "Our messages will target Gov. Jerry Brown and the 120 state legislators who are responsible for making the budget decisions that impact the CSU. We want to show them that we care about higher education, that it is important to the economic well-being of this state and that everyone deserves an affordable college education."
In addition to the Twitter campaign, Titan Advocates have been collecting postcards addressed to Gov. Brown. The cards are being delivered to his office on Valentine's Day. They read:
"A recent Public Policy Institute of California report found that 74 percent of Californians said there is not enough state funding for higher education, and a solid majority of 65 percent said that public colleges and universities have been negatively affected by the continual budget cuts. The proposed $2 billion in state support for the CSU is the lowest in 15 years and reflects the continuation of a $750 million (27 percent) reduction in funding. If the state continues down this troubling path, the future of California will be in jeopardy. In order for California's economy to flourish, we must produce educated citizens to meet the increasing needs of our workforce. On this Valentine's Day, let's reflect on the ways in which higher education serves as the heart of California."
Aissa R. Canchola, a Cal State Fullerton American studies and political science major and chair of the California State Student Association who will be posting and re-posting the Titan Advocates' Twitter messages, called the campaign the communication "mode of today."
Re-tweeting "is the fastest and easiest way to get a message to our legislators, especially for students," Canchola said. "This is the modern form of letter writing and a great way to not only get with the times, but also for students to get involved."