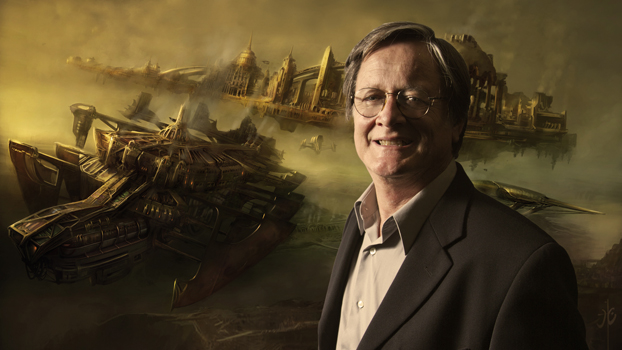 Caption: CSUF Alumnus Tim Powers will present a free lecture on campus May 3. Photo: Matt Gush Download
'On Stranger Tides' Author Speaks
Tim Powers to Deliver Alumni Lecture at CSUF
April 20, 2012 :: No. 154/mkc
What:
"A Conversation With Tim Powers" is this year's annual alumni lecture sponsored by Cal State Fullerton's English, Comparative Literature and Linguistics Department. The May 3 talk is free and open to the public.
Who:
A Cal State Fullerton graduate, Powers  (B.A. English '76) is the author of 14 novels and five short story collections. His work has won World Fantasy, Locus, Mythopoeic Society, British Science Fiction Association and Philip K. Dick awards. Powers' "Anubis Gates" is one of the first Steampunk novels, a subgenre he helped found. Powers was on campus earlier this month to speak at the opening for "Steampunk: The Beginning" exhibition, through May 10, in the Begovich Gallery. His fantasy novel "On Stranger Tides" was adapted into Disney's fourth "Pirates of the Caribbean" film.
When:
Thursday, May 3
4 p.m.
Where:
Cal State Fullerton, Humanities-Social Sciences Building, Room 123
800 N. State College Blvd., Fullerton, 92831
Parking:
$2 per hour or $8 for a daily permit. Details are available online.
More Information:
Maria H. Figueroa, Department of English, Comparative Literature and Linguistics, 657-278-4024
Media Contact:
Mimi Ko Cruz, 657-278-7586