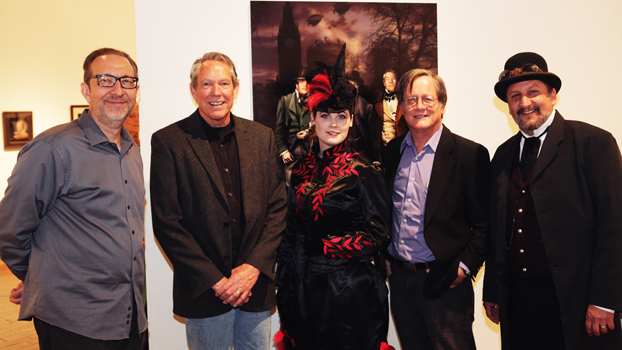 Caption: At the opening of the Begovich Gallery exhibit "Steampunk: The Beginning": (from left) Mike McGee, gallery director; James P. Blaylock, author of "Homunculus"; Jacqueline Bunge, assistant gallery director; Tim Powers, author of  "Anubis Gates"; and Cliff Cramp, professor of art.  Photo by Eric Stoner Download photo
'Steampunk: The Beginning'
Exhibit Inspired by Art/Literacy Movement and Alumni Works
April 5, 2012
More than 80 illustrations inspired by the steampunk genre, specifically the work of three Cal State Fullerton alumni, will be featured in the exhibit "Steampunk: The Beginning" opening April 7 and running through May 10 in the Begovich Gallery.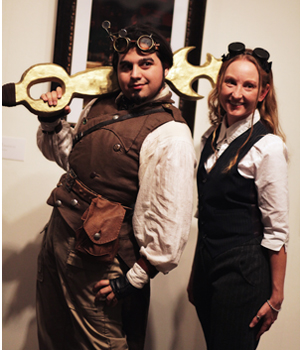 Caption: Student Paul Esquer gets into the theme of "Steampunk: The Beginning" with Seonag Bauer. Photo: Eric Stoner Download Photo
The creations of the participating art faculty members, students and alumni are inspired by three Titan graduates and their Steampunk-related publications — "Homonculus" by James Blaylock (B.A. English '72, M.A. English '74); "Infernal Devices" by K.W. Jeter (B.A. sociology '73); and "Anubis Gates" by Tim Powers (B.A. English '76).
Although many works now considered seminal to the genre were published in the 1960s and 1970s, the term 'steampunk' originated in the late '80s from Jeter, then a recent CSUF graduate. Jeter created the general term for works produced by fellow students and friends, Tim Powers and James Blaylock, whose stories took place in a 19th-century setting that imitated conventions of actual Victorian speculative fiction, such as H. G. Wells' "The Time Machine." Steampunk has since gained popularity in mainstream culture, fashion, movies and television.
A conversation with Blaylock and Powers — led by Mike McGee, professor of art, Begovich Gallery director and exhibit curator — will be held at 4:30 p.m. just prior to the April 7 opening reception in the Begovich Gallery. Both events, as well as the exhibit, are free and open to the public. Gallery hours are noon to 4 p.m. Mondays through Thursdays and noon to 2 p.m. Saturdays. For more information, go visit the Art Department website.