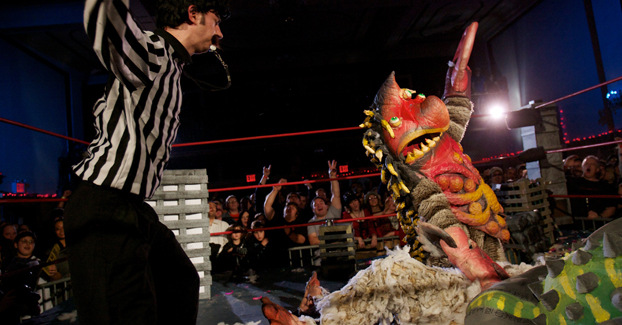 Caption: A monster wrestling bout ends suddenly as "Giii the Space Pirate" pins "Dusto Bunny" before a frenzied crowd. Photo courtesy Sol Neelman
Weird Sports
Photographer to Discuss His Adventures April 2
March 20, 2012 :: No. 117
Who:     
Sports photographer Sol Neelman, whose photos are featured in "Weird Sports" (Kehrer Verlag, 2012), will make a presentation April 2 at Cal State Fullerton about his adventures shooting such sports as chess boxing, wife carrying, pancake racing and lingerie football. His talk is free and open to the public.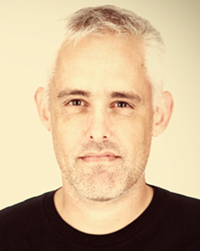 Caption: Sol Neelman
When:     
Monday, April 2
2-4 p.m.
Where:     
Cal State Fullerton, Langsdorf Hall, Room 404
800 N. State College Blvd., Fullerton, 92831
Background:     
According his book's description, Sol Neelman "is a failed athlete turned sports photographer living in Portland." A journalism graduate from the University of Oregon, he began his newspaper career soon after not being selected in the 1994 NBA draft. Three years photographing at a small, community paper in McMinnville, Ore., led to seven years of service at the Oregonian. In 2007, he was part of a Pulitzer Prize-winning team recognized for breaking news reporting. Soon after, he left the newspaper to pursue a photo book project on sports culture around the world.
Images:      
Neelman's work has appeared in National Geographic, ESPN the Magazine, Sports Illustrated, Rolling Stone, People, Newsweek and TIME. Among the sports he's photographed are: tazer ball, extreme ironing, cheese rolling, urban golf, zombie run, ostrich racing, outhouse racing, downhill speed skating, prom dress rugby, Segway polo, unicycle football and myriad eating contests.
Parking:     
$2 per hour or $8 for a daily permit Monday through Friday. Details are available online: http://parking.fullerton.edu/Parking/ParkingLots.aspx.
More Information:     
Lenny Wiersma, professor of kinesiology, 657-278-3806, lwiersma@fullerton.edu
Media Contact:     
Mimi Ko Cruz, 657-278-7586, mkocruz@fullerton.edu