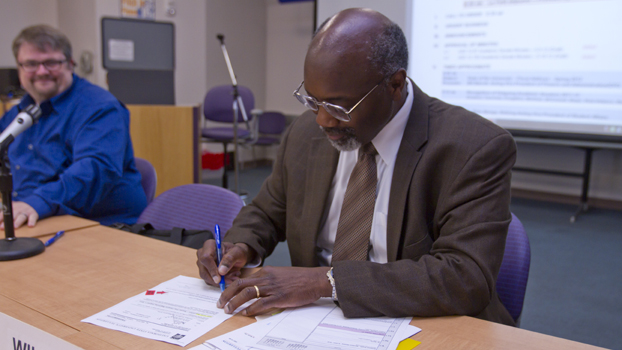 Caption: Interim CSUF President Willie J. Hagan signs an Academic Senate resolution establishing a smoke-free campus. Watching (left) is Sean E. Walker, associate professor of biological science. Photo: Matt Gush Download Photo
No Smoking Allowed
Cal State Fullerton becomes First CSU Campus to Adopt Smoke-Free Policy
May 17, 2012 :: No. 187
Cal State Fullerton Interim President Willie J. Hagan today signed into policy an Academic Senate resolution that will make the university a smoke-free campus, effective Aug. 1, 2013.
CSUF is the first campus in the California State University system to adopt such a policy to ban smoking anywhere on university property.
The resolution, unanimously approved Feb. 23 by members of the university's Academic Senate, including Hagan, includes a ban on the sale or distribution of smoke-generating tobacco products and the implementation of "an education/publicity/outreach campaign" to increase awareness of the new policy during the 18 months before the policy goes into effect.
"I expected to receive negative comments about the action of this new policy, but have been surprised," said Hagan, noting examples of both students and faculty members approaching him to express their support and appreciation for such an action.
The policy goes beyond and supersedes a 2003 policy that bans smoking in any "building owned, leased or rented by the university or one of its auxiliaries, whether located on or off campus," as well as within any vehicle owned, leased or rented by the university or one of the university's auxiliaries. Since 2003, smoking also has been banned within 20 feet of any building.
Parking lots and all vehicles on campus are included in the smoking ban that will take effect Aug. 1, 2013.