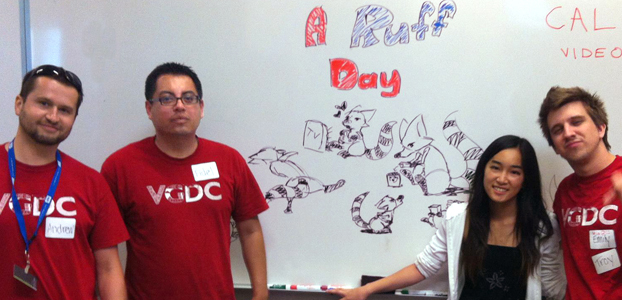 Caption: Computer science students, from left, Andrew Soltan, Fidel Cabezas, Emily Chiang and Troy Stump created an award-winning phone game, "A Ruff Day," featuring Ruff the Raccoon.
'A Ruff Day'
Computer Science Students Create Winning Phone Game
May 23, 2012
As young boys, Andrew Soltan and Troy Stump were fascinated at how computers, consoles and other high-tech devices worked and the wonders of what could be done with them, especially when playing video games in the virtual world.
"When I was 12 years old, I made my first video game," said Soltan. "I felt like I had found my calling."
For Stump, he was 10 when he got hooked on the marvels of technology and interactive entertainment. "I think not knowing the boundary of technology is a very exciting thing that will never go away. I knew computer science was for me because it never gets boring or dull; there is always a new problem to be solved."
Now the young men, 2012 Cal State Fullerton graduates armed with bachelor's degrees in computer science, have not only expanded their knowledge in computer programming and game development, they've created a winning phone game.
This spring, the Placentia residents, along with two classmates, won the "Best Windows Phone Game" at the first IEEE GameSIG Intercollegiate Computer Game Showcase competition. Their game, "A Ruff Day," features Ruff the Raccoon, who recycles trash and battles trash monsters to make the world a greener and cleaner place.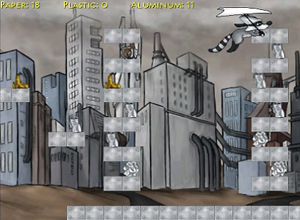 Caption: A screen shot of the phone game "A Ruff Day" shows the raccoon using a glider in his quest to collect trash.
"It is a huge inspiration for the whole team," said Stump about receiving the award. "For me, there is no greater feeling than creating something from scratch alongside a great team, and having an outside audience recognize and be excited about our hard work."
Their fellow team members, who are still completing their degree programs, are graduate computer science major Fidel Cabezas of Anaheim and Irvine resident Emily Chiang, a computer science and art major who created Ruff. The team's adviser is Michael Shafae, assistant professor of computer science.
"Emily's ability to draw Disney-esque cartoon characters led us to developing a very cartoony game about a raccoon, who we came to call 'Ruff.' Before we knew it, he was our 'Mario,'" said Soltan, referring to the Nintendo character.
The team is currently making finishing touches to "Ruff," a 2-D Windows Phone 7 game appropriate for children, as well as adults. They plan on releasing the game over the summer on the Windows App Hub.
"Our character, Ruff, is controlled solely using the accelerometer and touch screen," Soltan said.
Also in the works is a 3-D sequel for iOS, Android and Windows phone platforms. The team has developed other games, including "Nuclear Ninja Beavers" for Mac and PC users, and "Snircles" for iOS mobile platforms, such as iPads.
The graduates, who participated in commencement exercises May 20, credit their Cal State Fullerton education for helping fulfill their academic and video gaming goals.
"I've learned how to be a good programmer," said Soltan, who served as 2011-12 president of the college's Video Game Design Club and graduated cum laude. "And now, after taking courses in programming, artificial intelligence and computer graphics, I feel that I am very well prepared for the increasingly competitive video game industry."
For Stump, the computer science program helped sharpen his skills in problem solving, as well as in communicating more effectively. "Now, I feel confident in my ability to succeed in the industry."
And that is exactly what the team hopes to do by launching their own video game studio this summer. To develop a business plan, they sought the help of Michael D. Ames, emeritus professor of management and chair of the Center of Entrepreneurship advisory board in Mihaylo College of Business and Economics.
"Dr. Ames has been the one to breathe life into an idea I thought was too far-fetched for practicality," Stump admitted.
"We've already met with potential investors and are waiting to hear. In any case, we'll continue making games and making Cal State Fullerton proud," Soltan said.
A video of the creators and a sample of "A Ruff Day," can be seen here.